---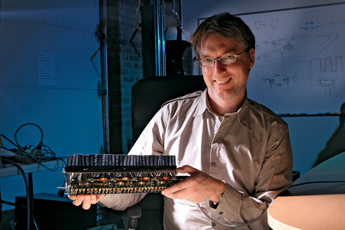 Northwestern professor Malcolm MacIver has taken his robotics expertise to television as a technical script consultant for the new science fiction drama Caprica, which premiered in January on the Syfy channel.
"They were looking for somebody who could be a good tech consultant in areas like artificial intelligence, robotics and neuroscience," said MacIver, assistant professor of biomedical and mechanical engineering.
Those areas are right up his alley. Since July the show's producers have sent MacIver each episode's script to review. His input has included brainstorming with writers, tweaking dialogue and checking for accuracy. The 20-episode season of Caprica, a Battlestar Galactica prequel, runs until the fall.
For MacIver, the gig offers another way to bring scientific concepts and ideas to the public. "This has the potential to improve science literacy in an indirect but powerful way," MacIver said. "A lot of people shut down when they see a scientist lecturing. Rather than fight that, we want to improve the quality of science in movies and TV. I'm really excited to have a hand in that.
Caption: Engineering professor Malcolm MacIver, holding the innards of a fish robot, is putting his robotics expertise to work as a script consultant for the show Caprica. Last year he served as a script consultant for the upcoming science fiction film Tron Legacy, a sequel to the 1980s cult classic Tron.
Photo by Andrew Campbell