---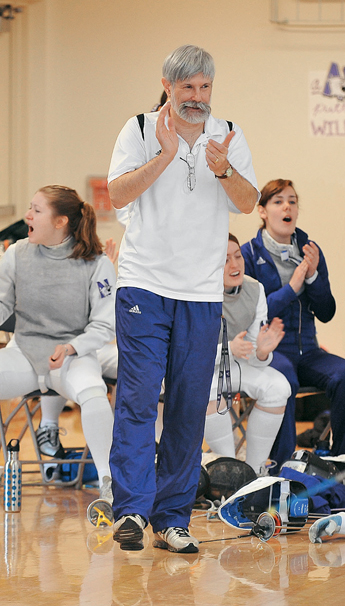 Northwestern fencing coach Laurie Schiller's road to 1,000 wins started more than three decades ago when he was a doctoral student in African history at Northwestern. In 1978, after studying in Kenya on a Fulbright-Hays Fellowship, Schiller (G82) returned to Evanston to complete his degree and take over Northwestern's burgeoning fencing program. By 1982 Schiller had turned a small club program into a bona fide varsity sport.
Since then Schiller has become one of the most successful coaches in collegiate fencing history. Schiller, the second coach in NCAA history to record 1,000 victories, has a combined men's and women's record of 1,034-416 in 32 seasons.
"When you achieve a milestone, it's a measure of longevity, but it's also a measure of success," said Schiller, whose career victories include 242 wins as coach of the men's program, which moved to club status following the 1993-94 season. He is 792-242 as coach of the Northwestern women.
A two-time U.S. Fencing Coaches Association Collegiate Coach of the Year, Schiller has shown no signs of slowing down. Northwestern finished the 2010 campaign with a 45-4 mark in dual competitions, the first time the Wildcats have topped 40 victories in a single season.
Northwestern sent five fencers to the NCAA Fencing Championships, where freshman foilist Dayana Sarkisova placed third and became the fourth fencer in program history to earn first-team All-American honors. Northwestern finished eighth at the national championships, marking the 11th consecutive season Schiller's squad has finished among the top 10.
What's next for Northwestern's longest-tenured coach? Schiller, a Civil War re-enactor and student of U.S. history, would like to move to Washington, D.C., or Gettysburg, Pa., to do research for several books. In the meantime, though, he still has some work to do at Patten Gymnasium. "I still don't have a national champion," Schiller said. "I'd like to see that."
— Robert Levin (J12)
Photo courtesy of Northwestern Athletic Communications