---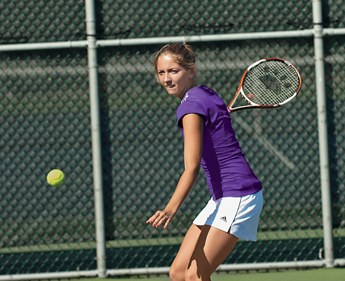 Women's tennis coach Claire Pollard can thank Northwestern's strong academic reputation for the interest of her top singles player.
As a high school senior in Moscow, Maria Mosolova discovered Northwestern when she performed an Internet search for the top U.S. academic institutions. Northwestern, then No. 12 in the U.S. News & World Report rankings, rose to the top of the list for Mosolova. It didn't hurt that the Wildcats were in the midst of winning 11 straight Big Ten titles in women's tennis.
The two-time Russian junior national champ e-mailed Pollard and eventually chose the University without ever visiting Evanston. Now a junior economics major and Academic All-Big Ten honoree, Mosolova has achieved in the classroom and on the court. "Sometimes I forget she's doing this in her second language," Pollard said. "And that's amazing."           
Mosolova has lost only one conference match in her career, earlier this season against the University of Michigan. She spent much of her sophomore season ranked No. 1 in the country and earned consecutive Big Ten Player of the Year awards.
This success has been a blessing and a curse. "It's hard to go out there as one of the top players in the country," she said. "Last year everyone was coming out and playing the best matches of their lives against me."
This season things are different. After losing four matches at the start of the dual meet schedule, Mosolova's ranking dropped to No. 13.
"I really don't think Maria has struggled," Pollard said. "Yes, she's not No. 1 in the country, but the reality is she never gets a day off. It's tough to come out every day and play your best tennis, and if you don't at No. 1, you will lose."
By the beginning of April, Mosolova had 14 wins, including five over top-100 players. She also surpassed 100 career wins in April.
— Robert Levin (J12)
Photo courtesy of Northwestern Athletic Communications