---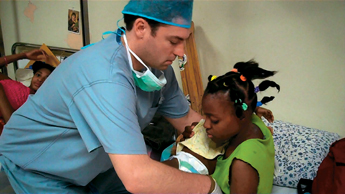 After watching television reports of the earthquake devastation in Haiti, Joe Weistroffer knew he could help. Weistroffer, assistant professor of orthopedic surgery at the Feinberg School of Medicine and a spinal surgeon at Northwestern Memorial Hospital, previously spent time in the military setting up field hospitals and practicing disaster medicine.
Through Feinberg's Center for Global Health, Weistroffer led a four-person team to Dario Contreras Hospital in the Dominican Republic capital, Santo Domingo, in late January. During their eight-day trip, the team operated on seven people, including four spinal surgery cases.
The Center for Global Health team did more than treat people on the ground. Orthopedic surgeon Daniel Ivankovich (FSM94, GFSM95, 02) brought two spinal cord patients back to Chicago for treatment at Northwestern Memorial and the Rehabilitation Institute of Chicago.
As of April 1, nearly 30 doctors and nurses affiliated with Feinberg and NMH had been deployed to provide medical assistance to clinics, hospitals and emergency wards in Haiti and the Dominican Republic.
The Chicago medical response team, which includes Northwestern and three other Chicago-based academic medical centers, continued two-week deployments of six to eight doctors and nurses through April, with a possible commitment through June. Volunteers — internal medicine doctors, family physicians, pediatricians, infectious disease doctors and nurses — traveled to two hospitals and 14 mobile clinics run by the International Medical Corps, an emergency relief organization.
Daniel Ivankovich, director of Feinberg's Center for Global Health, is also working on a committee to help rebuild Haiti's medical education and training system. Murphy and other members of the Chicago medical response group gave presentations on their experiences at a Department of Health and Human Services meeting in Washington, D.C., in March.
The Northwestern campus community also contributed to the relief effort. In Evanston 30 student groups organized a series of events for "NU Stands with Haiti" in late January. They collected funds — $18,000 — and much-needed supplies.