FEATURES:
• You Can Go Home Again
• Alumni Connect with Students from the Start
• NAA Honors Outstanding Alumni
• All the President's Men and Women
• Rekindling Northwestern Spirit

CLUB NEWS:
• Regional Clubs
• Special-Interest Clubs

PROFESSIONAL SCHOOLS:
• Kellogg Graduate School of Management
• School of Law
• The Feinberg School of Medicine
CLOSE-UPS:
• Aid and Refuge
• The Sounds of Silence
• Serving San Francisco's Asian Community
• An Attorney with Perspective



All the President's Men and Women
Alumni regents represent the best of Northwestern in their respective regions.
---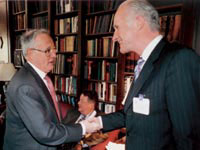 As Northwestern President Henry S. Bienen leads the University's current boom, one of the largest in its history, he is the fortunate beneficiary of a broad alumni base, particularly among the alumni regents who represent the University in major metropolitan areas.

The group's history stretches back to 1956, when President Roscoe "Rocky" Miller (FSM29) oversaw a similar growth period at Northwestern and called for the creation of the regents to help him move his plans forward.

Recommended by alumni or University administrators because of their local prominence and connection to their communities, the regents are appointed by the president. They generally support alumni clubs in their cities, represent the John Evans Club in their communities and provide two-way communication between these groups and Northwestern.

Regents have been especially active during Campaign Northwestern, the $1.4 billion fundraising effort. In particular, they worked with the University's Department of Development to plan campaign events and encourage alumni participation.

Regent Hank Reiling (WCAS60) of Boston recruited a large number of alumni volunteers to serve on local campaign committees, and his organizational plan was used as the model for subsequent campaign events in other cities.

Susan Snider Osterberg (C66), a regent emerita who recently completed her second term in Houston, reports more than 125 alumni committee members participated in that city's campaign, which in turn generated added interest in the University. "We introduced a lot of friends and parents to the University, and some students even applied to Northwestern after our campaign," Osterberg says. "So it turned out to be quite educational."

"The campaign would not have been as successful as it's been without the leadership of regents," says Don Perkins, who chairs the campaign with Tom Hayward (WCAS62, L65). "Because they're so well known in their communities, the regents helped us involve as many volunteers as possible."

In May the regents traveled to the Evanston campus to learn more about such priorities as expanding science and technology programs and the need for more space to do so. Bienen thanked the group for its assistance in extending Northwestern's presence around the country.

"Northwestern is an extraordinarily national university compared with similar universities whose students and alumni are concentrated in one specific region," Bienen said. "I want to extend that high-level regional representation to increase our academic, financial and political support."

Regents also represent Northwestern by participating in the ceremonial exercises at local colleges and universities. Richard Doege (WCAS61, KSM63), a regent for the Seattle area who is currently on a fellowship at Harvard University, stood in for Bienen at the inaugural ceremonies for Harvard president Laurence H. Summers and Bowdoin president Barry Mills in summer 2001. "The role of a regent," Doege says, "is similar to that of an ambassador, to be a liaison in the academic community whenever possible."

Chicagoan John Berghoff (WCAS63, L66), chair of the alumni regents, says it's likely more alumni from cities with large alumni populations will be tapped for regents' positions. "Initially, their duties are going to be flexible, depending largely on the needs of the president and what kind of support he needs from each particular region."