FEATURES:
• You Can Go Home Again
• Alumni Connect with Students from the Start
• NAA Honors Outstanding Alumni
• All the President's Men and Women
• Rekindling Northwestern Spirit

CLUB NEWS:
• Regional Clubs
• Special-Interest Clubs

PROFESSIONAL SCHOOLS:
• Kellogg Graduate School of Management
• School of Law
• The Feinberg School of Medicine
CLOSE-UPS:
• Aid and Refuge
• The Sounds of Silence
• Serving San Francisco's Asian Community
• An Attorney with Perspective



Regional Clubs
---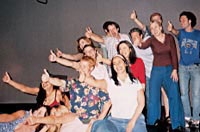 A team from the Young Alumni chapter of the NU Club of Chicago joined thousands of volunteers in June to clean, plant and paint at city parks, schools and community buildings as part of the Chicago Cares Serve-a-thon. The Chicago club's summer calendar also included trips to Comiskey Park and the Ravinia Festival as well as an architectural river cruise through the Chicago Loop.

On Sept. 15 members will spend the day handicapping the horses at Arlington International Racecourse.

Members of the NU Club of Los Angeles, formerly the NU Club of Southern California, turned out to support recent Northwestern graduates at a musical showcase at Hollywood's Court Theatre in June. Other summer events included an annual alumni mixer in nearby Santa Monica, an outing to watch the Los Angeles Dodgers take on the Chicago Cubs and planning for a spirited contingent to attend Northwestern's Aug. 31 football game against the Air Force Academy in Colorado Springs.

The NU Club of Greater New York reintroduced its annual Sports Night celebration of Wildcat athletics last June. At the event members honored two-time All-American and current Wildcat linebacker coach Pat Fitzgerald (SESP97). As a player, Fitzgerald helped lead Northwestern to two Big Ten championships and appearances in the Rose and Citrus Bowls. He was also captain of the 1996 Citrus Bowl team.

More than 30 members of the NU Club of the San Francisco Bay Area spent a lovely May day touring the Napa Valley wine country. Stanley Szeto (McC97) and J. Keith Grimson (D61) shared their expertise on winemaking history and production while the group toured the Beringer and Joseph Phelps wineries. Gus Anderson (D56) welcomed the group to Anderson's Conn Valley Vineyards, where alumni lunched and listened to his presentation on viticulture. The day ended with a trip to Niebaum-Coppola, a winery owned by Hollywood producer and director Francis Ford Coppola.

The NU Club of Sun Cities (Ariz.) is preparing for its fall luncheon at Sun City's West Valley Art Museum Oct. 26, which features a presentation about Berlin by the museum's executive director. The club's holiday party is set for Dec. 15 at the home of Pat Elder Densford (Mu60) and her husband, Paul (McC61). On Feb. 8 the club returns to West Valley for its winter luncheon.

On Sept. 14 the NU Club of Washington, D.C., joins the Northwestern Alumni Association in sponsoring "A Day with Northwestern" at the George Mason University's Arlington Campus Professional Center in Arlington, Va. A daylong presentation by distinguished University professors and alumni, the event, titled Advances in Science, features Chad A. Mirkin, George B. Rathmann Professor of Chemistry and director of the Institute for Nanotechnology and Center for Nanofabrication and Molecular Self-Assembly; Francis J. Klocke, professor of medicine and director of the Feinberg Cardiovascular Research Institute; David Meyer, chair of the physics and astronomy department; and Christine Berg (WCAS75, FSM77), medical director of Suburban Hospital Cancer Program in Bethesda, Md.