FEATURES:
• You Can Go Home Again
• Alumni Connect with Students from the Start
• NAA Honors Outstanding Alumni
• All the President's Men and Women
• Rekindling Northwestern Spirit

CLUB NEWS:
• Regional Clubs
• Special-Interest Clubs

PROFESSIONAL SCHOOLS:
• Kellogg Graduate School of Management
• School of Law
• The Feinberg School of Medicine
CLOSE-UPS:
• Aid and Refuge
• The Sounds of Silence
• Serving San Francisco's Asian Community
• An Attorney with Perspective



Alumni Connect with Students
from the Start
Through a variety of programs the Northwestern Alumni Association establishes ties to the current generation of students.
---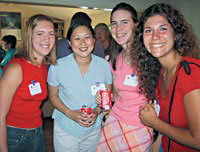 When Jeni Noerenberg, now a McCormick sophomore, prepared two summers ago to leave her familiar surroundings in San Diego for Northwestern, she was nervous about the transition to college life. But after she attended the NU Club of San Diego's new student barbecue, Noerenberg's apprehensions lifted.

"It was very informal, and everyone was friendly," she says about the event at the home of Debbie Horwitz (GSESP69) and Paul Nierman (KSM76). "They told me about the cold weather and what not to miss — like Dance Marathon. Their memories and descriptions made campus feel a little more like home."

Even before first-year students have unpacked their bags on campus, the Northwestern Alumni Association has involved itself in undergraduate life. It's a connection that continues throughout the University experience and often extends beyond Commencement as the newly minted alumni embark on careers.

After the new students arrive in Evanston, the NAA keeps the summer spirit alive at its annual ice cream social, scheduled this year for Sept. 29 on the grounds of the John Evans Alumni Center. There, just across from the Evanston lakefront, students traditionally enjoy live music and their favorite ice cream treats while getting to know more about the association and each other. The center is also the site of the NAA's fall barbecue to welcome transfer students.

The Northwestern Class Alliance is a student group that works closely with the NAA to strengthen the student-alumni relationship. This fall the alliance and the NAA will be joining the Associated Student Government and University Career Services to offer a career-shadowing program in which students will be matched with alumni and will observe them in their work environments.

That program joins several already established career connections to alumni. The NCA's Career Chats brings Chicago-area alumni to campus to meet with groups of students in related fields. In the fall Northwestern CareerNet (www.alumni.northwesten.edu/career/), the NAA's online career networking tool, will be available for student use. And the association's Council of One Hundred provides a forum for alumnae business executives and professionals to mentor female undergraduate and graduate students and young alumnae.

"We're trying to create opportunities for students to network with alumni as much as possible and realize the advantages and resources they provide," says junior Brant Ullery, chair of the NCA.

On the lighter side, students team up with the NAA to plan Northwestern's homecoming parade. And at the end of football season, members of the senior class enjoy food, fun and entertainment with alumni at Wildcat Alley before the last home game.

The regional NAA organizations also are eager to maintain ties with students beyond the initial stage. Like other clubs, the NU Club of Philadelphia threw sendoff parties over the summer for incoming students at the homes of local alumni, but George Berry (Mu00), president of the NU Young Alumni Association of Greater Philadelphia, wants to build on that idea.

"We'd like to hold periodic talks or discussion groups for families of current Northwestern students to talk about whatever is on parents' minds about their sons or daughters there," he says. "We'd also like to hold parties over Thanksgiving and December holiday breaks to talk to these current students."

At the end of four years of hard work and, yes, some fun times, too, graduating seniors return to the John Evans Alumni Center during each year's Senior Week in June to unwind after final exams at the NAA's senior barbecue. They also receive NAA mementos, such as business card holders and information, to help them stay connected to the University after leaving campus.

Kerri Schneider (WCAS01), an economics major now working for a Chicago real estate investment firm, appreciates the guidance she received as a student and knows how valuable alumni contacts can be in the workplace. "That added leverage really makes a difference, especially in today's job market," she says. "It can make the transition from school to career a lot easier, and by keeping those contacts, new professionals can stay focused and motivated."