FEATURES:
• You Can Go Home Again
• Alumni Connect with Students from the Start
• NAA Honors Outstanding Alumni
• All the President's Men and Women
• Rekindling Northwestern Spirit

CLUB NEWS:
• Regional Clubs
• Special-Interest Clubs

PROFESSIONAL SCHOOLS:
• Kellogg Graduate School of Management
• School of Law
• The Feinberg School of Medicine
CLOSE-UPS:
• Aid and Refuge
• The Sounds of Silence
• Serving San Francisco's Asian Community
• An Attorney with Perspective


Special-Interest Clubs
---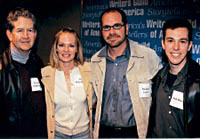 On Oct. 31 the Alumnae of Northwestern University present their annual Alumnae Award to investigative journalist Laura Washington (J78, GJ80) at a luncheon at the Norris University Center. For more information on the Alumnae's fall continuing education series, visit www.alumni.northwestern.edu
/education/alumnae.html.

The Council of One Hundred will meet Oct. 9 and 10 on campus for the group's annual fall meeting. Highlights will include a "dress for success" presentation and a mentoring program in which members will match up with women students and offer career guidance.

The John Evans Club will kick off the month of November on the Evanston campus with its cluster weekend of events. Members, who will gather Nov. 1 through 3, are set to attend the play Our Country's Good at the Ethel M. Barber Theater, a pregame party at Wildcat Alley at Wells Field behind Welsh-Ryan Arena and a postgame party that will convene at the same location.

In August recent graduates and newcomers to the Los Angeles area's entertainment industry got an introduction to the business through the NUEA (Northwestern University Entertainment Alliance) West's panel discussion at the Powerhouse Theatre in Santa Monica.

The club's fall calendar includes such events as an Oct. 22 panel discussion featuring Mike Knobloch (C92), vice president of film music at Twentieth Century Fox, on the feature film-scoring process.

In New York City members of NUEA East held a panel discussion in June with Alexis Alexanian (C85), producer of InDiGent Films, on the state of independence in films. For more information on NUEA events, visit www.nuea.org.

The Medill Club of Greater New York hosts a professional development series at Syracuse University's Lubin House in midtown Manhattan on Sept. 18 and Dec. 4. The club's fall calendar also includes panel discussions, a walking tour and happy hours.