FEATURES:
• You Can Go Home Again
• Alumni Connect with Students from the Start
• NAA Honors Outstanding Alumni
• All the President's Men and Women
• Rekindling Northwestern Spirit

CLUB NEWS:
• Regional Clubs
• Special-Interest Clubs

PROFESSIONAL SCHOOLS:
• Kellogg Graduate School of Management
• School of Law
• The Feinberg School of Medicine
CLOSE-UPS:
• Aid and Refuge
• The Sounds of Silence
• Serving San Francisco's Asian Community
• An Attorney with Perspective


An Attorney with Perspective
Richard Bernstein (L99),
an attorney and advocate for the visually impaired, has never let being sightless stand in his way.
---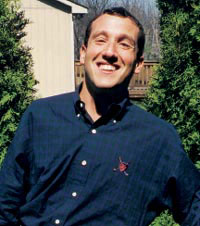 Photo by Jennifer Lovy


Through Richard Bernstein's eyes, there are two ways to deal with an obstacle — acknowledge it and work around it or let it slow him down. Bernstein (L99), a blind trial lawyer in Michigan, refuses to consider the latter an option.

A fighter for justice, Bernstein — himself a former special-education student — was instrumental earlier this year in a winning crusade that prevented the reduction of programs and services to special-ed students in Michigan's public schools.

"He's a passionate person," says Ken Reid, president of the Macomb (Mich.) Intermediate Federation of Teachers. "When someone has been discriminated against or doesn't have the ability to mount a defense, he's more than willing to jump in and take charge."

Blind since birth, Bernstein graduated summa cum laude from the University of Michigan. From an early age he wanted to be an attorney, and law school acceptance should have been a breeze. However, Bernstein refused to take the Law School Admission Test even though the exam could have been read to him. He believes that the LSAT is visually biased because of a heavy reliance on diagramming. Most schools refused to consider his application without a test score.

Yet Bernstein stuck to his beliefs, continuing to apply to law schools without an LSAT score. Ultimately a handful, including Northwestern, accepted him.

During his third year of law school, Bernstein wrote a paper on the LSAT's impact on the blind. Last year he submitted the paper to the State Bar of Michigan, which now recommends that all Michigan law schools waive the LSAT for blind applicants.

David Cohen, an attorney who works with Bernstein at the law offices of Samuel I. Bernstein, says his colleague is "not about being blind. He's about being the best person and the best attorney he can be. ... His blindness is just a challenge he addresses."

Once, when Bernstein and Northwestern law professor Lawrence Marshall (L85) were discussing a legal concept in class, the professor asked his student to read a passage aloud for clarification. "Richard is so agile at figuring out ways of dealing with his limitations," Marshall says. "It blew me away when I first learned he was impaired."

When Bernstein prepared for the Michigan Bar exam in 1997, he spent twice as long as most readying himself for the two-day test, which took him seven days to complete because of its visual nature. Since he was unable to use a highlighter or take notes on the lengthy questions, two readers had to repeat the questions up to 10 times for Bernstein to commit them to memory. The placement of even a single word can change an answer completely, so he also had to memorize each question before responding. But he passed on his first try.

Even more impressive than Bernstein's entrance to the bar is the type of work he does. A trial lawyer, he takes his skills out from behind a paper-laden desk and into the courtroom. Much like his experiences with the bar exam, Bernstein must memorize his case files completely before stepping before a judge.

"Richard has tremendous fortitude," says Marshall. "It would have been very simple for him to give up. Not only did he fight his way into law school, but once he got there he didn't give up the fight."


– Jennifer Lovy
Jennifer Lovy is a freelance writer and an attorney in West Bloomfield, Mich.