Mailbox
GEt those Namesakes Facts Straight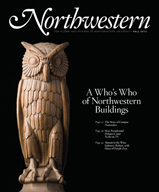 I enjoyed reading the fall 2012 cover story, "What's in a Name?" However, there is one fact in the item on Lutkin Hall that needs correction. Peter Christian Lutkin did not pen Northwestern's traditional hymn, "Quaecumque Sunt Vera," in 1907. Rather, he presided at the wedding of the traditional St. Anthony Chorale, composed by Franz Josef Haydn and expanded by Johannes Brahms in his "Theme and Variations on a Theme by Haydn," with the text from Philippians 4:8.
I spent a lot of time at Lutkin Hall during my years at Northwestern (1953–57), and the memory of Lutkin was deservingly respected. It is important to give credit where credit is due — and for the work that Lutkin did. But he did not write the hymn.
Elizabeth "Betty" Burgoyne Badawi (BSM57)
Venice, Fla.
Editor's note: You're correct. Peter Christian Lutkin did not write the music but arranged the St. Anthony Chorale for use as Northwestern's school hymn in 1907. His version is still performed today. The Latin words were written by English professor J. Scott Clark; alumnus Harvey Reeves Calkins (WCAS1888) later wrote an English translation that fit the music. The English text used today is by Thomas Tyra (BSM54, GBSM55) and is not a translation of the Latin words.
I thoroughly enjoyed reading the cover story article, especially the story on the Charles Deering Library. It brought me back to August 1971. As an awestruck freshman reporting to Northwestern for the first time, sight-unseen, I set out to explore the campus and prepare myself for whatever it was that I was getting myself into. The most intriguing place I came across was  Deering Library, and it didn't take me long to notice the intricate stained-glass windows located throughout the building.
I was stunned, though, to see that one of the prominent positions over the main entrance doors was occupied not by a Northwestern University seal or emblem but by the crest of the United States Naval Academy! I did a double take. No one else would have noticed, but having grown up with a father and brother in the USNA alumni ranks, I would have known that emblem anywhere! But what the heck? After applying to the Naval Academy — and being rejected — I'd traveled halfway across the country to attend Northwestern, only to see the academy crest greet me every time I went to study!
I asked a few of the library staff then if they knew the history behind the USNA crest. They did not. It wasn't until 2010 when some old college photos rekindled my quest to solve the stained-glass window riddle. I emailed Janet Olson, assistant university archivist, to see if she could assist, and she immediately responded:
"The U.S. Naval Academy crest refers to Charles Deering, after whom the library is named. Charles Deering (1852–1927) attended the U.S. Naval Academy, graduating in 1873, and remained in the Navy for 12 years, until his father asked him to join the Deering Harvester Co. After 1902, when the company merged with the McCormick Harvesting Machine Co. and became International Harvester, Charles held positions on the board. It was Charles Deering's $500,000 bequest that made the building of Northwestern's Deering Library possible (his family chipped in additional funds). Another of the stained-glass windows (right next to the Naval Academy window) pictures Deering himself."
Stephen Park (WCAS75, Nav75)
Atlantic Beach, Fla.
Editor's note: The doors of Deering Library were closed in 1970, but this past October the University celebrated the grand reopening of the doors during Homecoming and Reunion Weekend.
I read with interest that Mrs. Montgomery Ward gave $4 million in 1923 to build the medical and dental school buildings. In 1918 my mother, Esther S. Nelson, was engaged to a pilot whose plane went down over France during World War I. She then turned her life toward medicine. She immediately wrote to apply to Northwestern medical school, but the last page of the brochure said, "Men only."
Mother then applied to and entered Rush Medical College, studying the first two years at the University of Chicago. She became an internist who practiced nearly 60 years in Chicago and California. She served briefly on the faculty of Northwestern University's Feinberg School of Medicine and later at the University of Southern California.
According to my mother, Elizabeth Ward gave the money to Northwestern for the privilege of women attending the medical school. Unfortunately, it was too late for my mother.
Carmen Alden Cunningham (WCAS56)
Hilton Head, S.C.
The fall 2012 cover story lists some of the past celebrities who have roomed at Willard Hall. You left out the most famous one from our freshman year — Ann-Margret Olsson Smith (C63)!
Sherry Hunter Smith (C63)
Seabrook Island, S.C.
Presidential Debates
I just read the well-researched and well-written article "TV Debates and the Presidential Race" by Terry Stephan in the fall 2012 issue, which provided details and insights that were certainly new to me and to other readers as well, I imagine. My only question: Why no photos of our three distinguished alums? Their roles were the primary theme of the story after all.
Thanks for an always-terrific magazine that walks well the tightrope of balancing school news with issues that impact our daily lives in the real world. No easy task.
Scott Pemberton (KSM93)
Wilmette, Ill.
Editor's note: You can find photos of alumni Henry Geller (L49), Newton Minow (C49, L50, H65) and Richard Wiley (SESP55, L58) in "TV Debates and the Presidential Race".
The Snake Handler's Blind Faith and the Journalist's Role
How disappointing that the alumni magazine of a world-class institution of higher learning would publish a piece that romanticizes blind, unreasoning belief and reckless disregard for the evidence ["Test of Faith," fall 2012].
The snake-handling preacher eulogized in the story got the fool's comeuppance that his lack of plain common sense earned him. But he was worse than a fool. He encouraged others to join in his destructive folly, and one of the photo captions describes him as actively working to spread his dangerous nonsense beyond his own circle of followers.
Religious unreason already does too much damage in our world; the last thing we should be whitewashing is ignorant, intransigent faith. Your magazine missed a chance to condemn something that needs all the condemnation we can muster. Does Northwestern stand by the high intellectual standards for which it's justly renowned except when the topic is religion?
Stephen Maitzen (WCAS85)
Halifax, Nova Scotia
I was stunned and disturbed by Lauren Pond's article, "Test of Faith," regarding the snake-handling Pentecostal pastor who died from a rattlesnake bite.
How could she not only watch a man's needless suffering and death but also document it? What if we in the medical field justified withholding treatment based on a patient's personal beliefs?
Emergency antivenom administration is not always successful but often is the only effective treatment.
She missed the point — it wasn't about Mr. Wolford's choice as a "competent adult" in a "testimony to unwavering faith" to endure the suffering, it was about her choice as a conscientious adult to react appropriately to help end it and do the right thing.
Yes, the photographs are moving but not worth a human life. She sacrificed the ethics of human responsibility and decency for those of photojournalism. Unbelievable!
Martha Wiedman (WCAS71)
Santa Ana, Calif.
I was educated first as a journalist at Northwestern and then as an attorney at the University of Houston Law Center. The principle of objectivity — detachment and no interference with the subject — was paramount in my journalistic training.
But the heart-wrenching narrative of a dying man, who so strongly believed in divine guidance that he died of a snakebite, brought the principle of objectivity into deep question. Granted, rational adults can choose to live and die with danger, or to refuse care.
But at what point does the third-party observer have a duty to observe her or his own moral compass and step in? Most readers would agree letting a starving child fail to reach food in order to take her photo exceeds all bounds. Most telling, the journalist doing so later committed suicide.
And even here, given his suffering and physical decline, was that pastor sufficiently competent to make a choice regarding medical care? Would he secretly have welcomed that intervention? If he were unresponsive, would a 911 responder called there have stepped in to make the decision?
These are questions we will never have answered, not because the photojournalist did not care but because she was more attuned to journalistic standards than her own moral compass.
Sharon L. Michaels (J75)
Houston
Registration Lines Had Their Benefits
It was a Saturday morning, December 1946, when about 100 freshmen enrolled in a recently introduced bachelor of arts program were queued in Harris Hall to register for the winter quarter beginning January 1947. I was in line with three buddies. Just ahead of us was a group of girls, one of whom had caught my eye for the whole first quarter but for whom I had failed to raise the nerve to introduce myself.
She turned around and with a sweet Arkansas accent asked, "Has any of you boys got a pencil?" I was glad to supply one and in the course of conversation learned that her parents had met at Northwestern in the '20s. Margery Ames [WCAS50] later confessed that she had asked me specifically because I happened to be the tallest of the group.
Thus began a four-year courtship that culminated in a Little Rock wedding in September 1950 followed by now 62 years of loving marriage and family.
I trust freshman students have more nerve these days since they no longer have registration lines on which to lean ["Hail Caesar," Then, fall 2012].
Gene Pflughaupt (SESP50) Danville, Ky.
Purple Passion
I read the article on alumni in the wine business ["Purple Passion," fall 2012] and thought it was very nice. I do have a name to add to your list. In Chicago you have Bob Bansberg (WCAS75) who has been a sommelier and wine lecturer of good notoriety.
I actually started my wine career as a sophomore at Northwestern when I started working at the Pump Room as a sommelier. That same year I started the wine mini-course program at Northwestern, and today it is still taught by one of my early students, Mark Gruber (C76).
Today I am managing partner and president of Vintage Wine Estates. We specialize in the ultra-premium wine segment and own several wineries including Girard and Cosentino in Napa Valley and Kunde Estate Winery, Sonoma Coast Vineyards and Windsor Sonoma Winery in Sonoma.
We love to see visitors from Northwestern. Alumni are always welcome to come out and taste our wines!
Pat Roney (C78)
Santa Rosa, Calif.
I read with great interest your recent article on fellow Wildcat "grape nuts." Please check out Cornerstone Cellars or drop by our tasting room in Yountville in Napa Valley, Calif. Cornerstone has been making highly rated cabernet sauvignon since 1991. Our 2007 Howell Mountain Cabernet was recently named wine of the year by the influential online wine publication Palate Press.
We've recently expanded our portfolio to include chardonnay and pinot noir from the Willamette Valley in Oregon, as well as sauvignon blanc and other varietals from Napa and elsewhere in California. We also offer a popularly priced line of wines under our Stepping Stone label.
I can think of no better way to toast the next Wildcat victory or other special occasion than by raising a glass of purple wine!
Hal Lewis (J70)
Germantown, Tenn.
Coach Fitz Puts Focus on Classroom
I write as a football fan and as a Northwestern alumna but, most important, as an educator. I teach U.S. history and sociology at Plymouth High School in Plymouth, Mich., between Ann Arbor and Detroit. I am an educator first.
I watched our football win over Iowa on TV. In the postgame interview on the field, Coach Pat Fitzgerald was asked by sideline reporter Lewis Johnson what he would focus on given that the Wildcats had a bye the next weekend. It seemed clear that the reporter expected an answer only about the next opponent and practice strategies. When Fitzgerald [SESP97] answered, "Well, we've got midterms. We're going to focus on that first." I pumped my fist in the air and yelled, "Yeah!"
I have always been proud of our alma mater but never as much as when Fitzgerald made that statement. Former President Henry Bienen (H09) once said something similar. On Jan. 1, 1996, after Northwestern lost in the Rose Bowl to the University of Southern California, Ted Koppel interviewed Bienen on ABC's Nightline. Koppel praised Northwestern's football season, especially in light of its prestigious academic reputation. Koppel asked if, given Northwestern's dramatic success, the University would struggle to maintain its standards, and perhaps feel tempted or even compelled to compromise standards in order to stay competitive in big-time college football. As with Fitzgerald, I was thrilled when Bienen answered, "No, if they can do the work, we are glad to have them at Northwestern."
I have never heard a college football coach comment on exams, or show awareness of midterms, let alone as a priority during live Saturday coverage after a game. If Fitzgerald (see "Mr. Intensity," fall 2010) considers this just part of his job, it is not a big deal — but it is indeed a very big deal in the greater context of most big-time college football programs, which make a joke of the concept of true student-athletes.
I am a Michigan Wolverine undergrad. I am from a Wolverine family, and I have held season tickets at the Big House for more than 20 years, but I root more for the purple 'Cats because they are far better students. I like to tell people that Northwestern would spank Michigan's players (and many others) in the classroom every day of the week, and twice on Sunday! I would rather see the stadiums taken down and the football programs disbanded than to relax academic standards or endure scandals.
Fitzgerald is a beacon of leadership and a fantastic role model.
GO CATS!
Ann-Nora Hirami (GJ92)
Plymouth, Mich.
Remembering the Dental School
I am proud to tell people that I graduated with a bachelor of science degree in dental hygiene in 1989. I was so sad to hear that, soon after, the University closed first the hygiene program, then, a few years after that, the dental program. I can't express how much I learned working alongside the dental students with our great professors and instructors.
I am so disappointed when I receive your magazine, and with each issue there is no mention of any past life of the dental program or the people who attended it. It is as if it never existed. I would love to see at least one article within each issue pertain to the wonderful program NUDS used to offer. I doubt that I am alone in wanting NUDS to be recognized once again.
Thank you for an excellent education in dental hygiene!
Carol Girolami Varni (D89)
Denair, Calif.
Northwestern welcomes signed letters of 250 words or fewer from readers. We reserve the right to edit all letters. Please send correspondence to the
Editor
Northwestern
1800 Sheridan Road
Evanston, IL 60208-1800
Fax: 847-491-3040
E-mail: letters@northwestern.edu