Montgomery Ward Memorial Building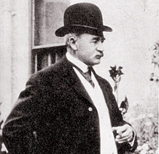 "Satisfaction or your money back." That was the first-of-its-kind promise made by Aaron Montgomery Ward, who founded the original mail-order catalog in 1872.
Ward, a native of Chatham, N.J., moved first to Michigan and then Chicago in 1865 and went to work as a clerk at Field, Palmer & Leiter Co., a new dry-goods store run by Chicago business icons Marshall Field and Potter Palmer.
Later, as a St. Louis-based salesman in rural Illinois, Missouri and Kansas, Ward developed the idea for his mail-order catalog business, in which he bought merchandise directly from manufacturers and then shipped orders to customers across the country, offering a liberal return policy.
After losing his initial inventory in the Great Chicago Fire of 1871, Ward launched Montgomery Ward and Co. just 10 months later. He wrote the text for the first catalog, a single page that listed 163 items. By the time of his death in 1913, sales for the company had reached $40 million per year.
In December 1923, his widow, Elizabeth Ward, gave $4 million for the construction of the Montgomery Ward Memorial Building to house the University's medical and dental schools. She later donated an additional $4 million to create an endowment for faculty salaries, research and scholarships. At the time the Ward gifts were the largest to the University from one individual.
"I am led to believe that the ideal of service dominates the various schools of Northwestern University," Elizabeth Ward wrote. "I have selected as a memorial the medical center because of its commanding site overlooking the lake, because it will render a very large measure of service to humanity, and because it will be as enduring as any memorial that can be devised."
The 19-story building, the world's first academic skyscraper, was completed in 1927, shortly after her death.
Stories by Stephanie Haines (WCAS15), Margaux Pepper (C14) and Danny Moran (J13).
Tell us what you think. E-mail comments or questions to the editors at letters@northwestern.edu.
Ever wonder about those strange designations we use throughout Northwestern to identify alumni of the various schools of the University? See the complete list.