Lutkin Hall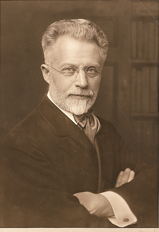 Peter Lutkin saved the study of music at Northwestern. The University had considered closing the Conservatory of Music when Lutkin arrived at Northwestern in the early 1890s.
Charged with restoring the University's music academy, he remodeled the curriculum after German conservatories and made music a department in the College of Liberal Arts.
Lutkin became the first dean when the School of Music was formed in 1895 and taught music theory, piano, organ and composition at Northwestern until 1931. He founded several music organizations at the University, including the nation's first a cappella choir, and in 1907 he penned the University's traditional hymn, "Quaecumque Sunt Vera," which students sang in Latin. The hymn's title is from Philippians 4:8, the source of the University's motto, "whatsoever things are true."
During Lutkin's tenure, the national music honorary society Pi Kappa Lambda was founded at Northwestern, its name derived from the Greek equivalents of Lutkin's initials.
Beyond Northwestern, Lutkin organized the North Shore Music Festival, first held in 1910. It gained international recognition under his direction.
The 400-seat Lutkin Memorial Hall, designed by James Gamble Rogers and dedicated in 1941, was financed by thousands of small gifts collected from alumni and friends over 30 years. Today the building is used mostly for student recitals.
Stories by Stephanie Haines (WCAS15), Margaux Pepper (C14) and Danny Moran (J13).
Tell us what you think. E-mail comments or questions to the editors at letters@northwestern.edu.
Ever wonder about those strange designations we use throughout Northwestern to identify alumni of the various schools of the University? See the complete list.