Mr. Intensity
As an All-American linebacker for the Wildcats, Pat Fitzgerald was known for his leadership and fire. Those traits still serve him well.
by Ryan Haggerty

Northwestern football coach Pat Fitzgerald doesn't waste any time molding the next generation of Wildcat fans.

At the beginning of every school year, Fitzgerald, 35, teaches the University's fight song to freshmen so that after each Northwestern win at Ryan Field, the players can jog to the front of the student section and join the students in belting out "Go U Northwestern."

"When you talk with alumni from a few generations ago, there wasn't as much pride in that song," says Fitzgerald (SESP97), who is entering his fifth season as the Wildcats' coach. "To me, that's the best song in the world, because that's the song of victory, and I want to make sure our stu­dents know how to sing it."

Students and players have been doing a lot of singing lately.

The Wildcats have won a total of 17 games over their last two seasons and are gunning for an unprecedented third consecutive bowl berth this season. In the four seasons Fitzgerald has served as head coach since the sudden death in 2006 of coach Randy Walker, Northwestern has gone 27-23 and been bowl-eligible in all but one season.

A two-time first-team All-American linebacker and member of the College Football Hall of Fame, Fitzgerald led the Northwestern defense that propelled the Wildcats on their runs to the 1996 Rose Bowl and 1997 Citrus Bowl. As the head coach, he has crafted the team in his fiercely competitive image, becoming the face of Northwestern's football program, if not the University as a whole.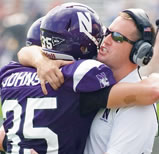 "He's given [Northwestern football] an identity," says Stewart Mandel (J98), who covers college football as a senior writer for Sports Illustrated 's website, SI.com. "Gary Barnett [who coached the Wildcats for seven seasons in the 1990s] put Northwestern on the map, obviously, but that proved temporary. Randy Walker helped craft the spread offense, with which they've become so synony­mous. But now when people around the country think of Northwestern, they immediately think of that guy on the sideline who seems to bleed purple and is always so fired up and isn't shy about celebrating a big play."
When asked to assess the current status of the pro­gram, Fitzgerald — sitting in his office after a meeting with his coaching staff, still wearing black athletic shorts and a purple Northwestern T-shirt from an earlier workout — first highlights the team's academic achievements.
A school-record 29 football players received Academic All-Big Ten honors in 2009, and the team had posted two straight quarters with a collective GPA above 3.0. Northwestern consistently ranks at or near the top nation­wide in its players' annual graduation rate.
He also mentions the team's commitment to com­munity service, from participating in Dance Marathon to volunteering throughout Evanston and the Chicago area.
But Fitzgerald knows that despite his players' achieve­ments in the classroom and the community, success in the world of major college football is measured on the field.
"At the end of the day, this is a production business," he says. "You've got to win football games. From a football stand­point, we've won three [Big Ten] championships since '95. The last decade has been as successful a decade as there's ever been in program history. I think we're really just getting started."
DREAM JOB, NIGHTMARE SCENARIO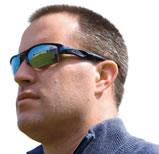 Fitzgerald's start as a head coach did not occur the way he had envisioned.
After graduating from Northwestern in 1997 and playing in three preseason games for the Dallas Cowboys, Fitzgerald, a native of Orland Park, Ill., worked as a defen­sive graduate assistant at the University of Maryland and under Barnett at the University of Colorado before joining the coaching staff at the University of Idaho in 2000.
In 2001 Walker hired Fitzgerald as Northwestern's defensive secondary coach.
Fitzgerald's long-term aspirations became clear when he and his wife, Stacy, visited Walker and his wife, Tammy, at the Walkers' home before Fitzgerald was offered the job, says Tammy, who remains a close friend of the Fitzgeralds.
"Randy asked, 'What do you envision yourself doing 10 or 15 years from now?' " Tammy recalls. "Pat said, 'Well, I would love to have your job.' "
"Randy laughed," Tammy says. "He said, 'Oh, I like that. That's good.' "
By 2002 Fitzgerald had been named Northwestern's linebackers coach. He took over the program's recruiting operation in 2004.
It gradually became apparent that Walker was groom­ing Fitzgerald to be his successor, but the University's long-term plans were shaken when Walker, 52, died of a heart attack June 29, 2006.
While Walker's family was planning his memorial ser­vice, officials from Northwestern's athletics department suggested to Tammy that she ask a coach to speak during the event.
Tammy picked Fitzgerald even though he wasn't the coaching staff's most senior or highest-ranking member, a choice she says was "by design."
"I knew that he would do a great job [as a speaker]," Tammy says. "I just thought it might help the powers that be to see that he might be a logical next choice, and he did do a great job. He addressed the players and challenged them, which was appropriate at the time and what Randy would have wanted."
Fitzgerald was named Northwestern's head coach on July 7, 2006, less than two weeks after Walker's death and less than two months before the team's first game that season.
Fitzgerald was 31 when he became head coach, making him the youngest head coach in Division I-A football at the time.
Although Fitzgerald was relatively young and inexperi­enced when compared with his peers, he was the right man for the job, says Mark Murphy, who was Northwestern's athletics director when Fitzgerald was named head coach and is now the president and CEO of the Green Bay Packers.
"There's always a risk involved" when hiring a head coach, Murphy says. "From my perspective, when you considered the quality of the person, I considered it a chance worth taking. [Fitzgerald] was so respected throughout the entire University, certainly by everybody who was involved with Northwestern football. I knew that he would be given time to be successful. Obviously, he's done an outstanding job."
Before focusing on football, Fitzgerald had to address the pain of Randy Walker's death. Tammy Walker says she wasn't surprised by the grace with which Fitzgerald approached the situation.
"He handled it with maturity beyond his years, but then that's Pat," she says. "He's just always been that way, just very mature. But it was a very sad time, obviously. He had to deal with grieving players, grieving assistant coaches, grieving fans. And of course he was very thoughtful to my family and to me.
"It had to have been very tough. Here he was getting this job he always wanted, but the situation is not what anyone would have wanted."
FIGHT FOR VICTORY
Fitzgerald admits he struggled at times with the transition from assistant coach to head coach.
"As a head coach, I wasn't very good," he says, a smile creasing his face. "I tried to micromanage too many things. Thank goodness for the staff and our players. We found a way to get the ship going in the right direction."
The Wildcats posted a 4-8 record in Fitzgerald's first season as head coach, a year in which the team had to deal with Walker's death while also adjusting to other changes on the coaching staff and the graduation of quarterback Brett Basanez (C05, GC06), who was the 2005 Big Ten Offensive Player of the Year and broke 32 school passing records during his Northwestern career.
Despite the tough start, the program has rapidly improved since the 2006 season, says Corbin Bryant (SESP10), who was a freshman in 2006 and is now a start­ing defensive tackle as a fifth-year senior for the Wildcats.
"My first year here, it was a struggle," Bryant says. "But I'm not regretting my decision to come to Northwestern now, because Coach Fitz has changed the outlook of our program from the bottom to the top. Teams definitely respect Northwestern a lot more now."
Fitzgerald's intensity and leadership have trickled down to his players, says Bryant, who has occasionally had to tell Fitzgerald to dial it down in practice when the coach jumps into contact drills without pads to demonstrate proper footwork or technique.
"He's given us some liberty on the team," Bryant says. "He's let us add our insight on what the team needs. He's been able to sit back and watch us push ourselves, rather than controlling the whole team by himself."
Getting players to take ownership of the team is part of the program's larger goal of creating leaders prepared for life beyond football, says Fitzgerald, who signed a seven-year contract last year that runs through 2015.
"Expectations for our guys are pretty simple," he says. "Do the right thing off the field, work as hard as you can as long as you can, embrace what we value, and everything else will take care of itself."
Fitzgerald's direct manner appeals to both members of the team and potential recruits, says Dan Persa, the Wildcats junior quarterback.
"His intensity stems from the amount of care he has for his players, and I think that's real evident from the first time you meet him," Persa says. "The reason he's so demanding is that he wants you to be the best in every aspect of your life, not just football. A lot of times in recruiting, coaches tell you lies to get you to come to a school, but he's honest throughout the whole process."
Fitzgerald says he learned the importance of honesty from Randy Walker.
"I don't tell kids what they want to hear," he says. "I learned that from Walk a long time ago. You tell kids what they need to hear. A lot of schools recruit you and say all this fluff and all this BS that doesn't matter.
"We're going to turn our cards over and we're going to say, 'Hey, this is Northwestern football. This is who we are. Come look and come discover. We're not hiding anything.'
"If you want to get a world-class education in the back­yard of the best city in the world and compete for Big Ten championships, I don't know where else you'd rather go."
Fitzgerald's passion for Northwestern and his reputa­tion as a leader who instills core values in his players has made him wildly popular among alumni football fans, says Willie Weinbaum (J82, GJ83), a New York–based producer for ESPN's enterprise unit.
"There just doesn't seem to be any facade with Fitzgerald," Weinbaum says. "What you see is what you get."
Fitzgerald is considered a rising star among college football coaches, leading some observers to mention his name in connection with various coaching vacancies.
Fitzgerald, however, says he already has his dream job, and Bryant and others close to the program feel Fitzgerald has many more years ahead of him at Northwestern.
"As a team, we knew that he wasn't going to leave us for anybody," Bryant says of offseason speculation that other schools coveted Fitzgerald. "In his mind, he's Northwestern until the end. He's going to be coaching the Northwestern football team until he's old and gray. He's the face of the Northwestern team, and I don't think that will ever change."