---
by Christopher Danzig

Mississippi native Norda Mullen (BSM82) began playing flute with the legendary rock band The Moody Blues in 2003 after the original flutist left the group. Here's what the classically trained musician had to say to Northwestern magazine's Christopher Danzig about her career and what it's like to perform one of the most famous solos in classic rock.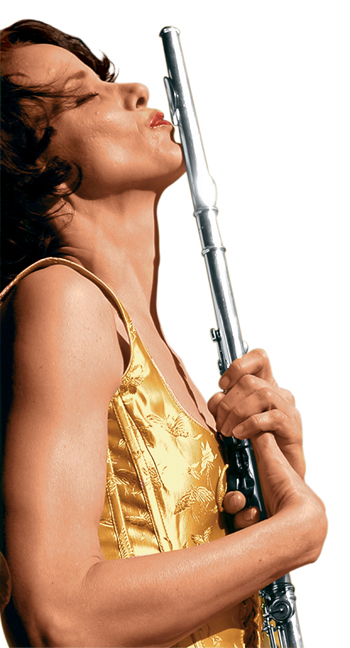 First of all: Flutist or flautist?
Well, both are correct, but flautist is the preferred term. Sometimes I feel like it sounds a little stuffy, so I don't mind flutist.
Did you try to learn the famous solo in "Nights in White Satin" when you were younger?
I was 10 or 12. It must have been 1970. My sister was having this hippie dippy party in the other room. I was the youngest, and she didn't want me coming around. I was in my parents' bedroom with my flute, and I kept hearing "Nights" over and over. They kept playing the album Days of Future Passed. I picked up my flute and I realized right away I could play it by ear. That was quite a novel concept for me, because up until that point I had only read music.
So when [Moody Blues lead singer] Justin Hayward called and said, "Do you know the solo? It's got some funny notes in it," I said, "No offense, but I figured it out when I was 12!"
What kind of playing did you do between the time you graduated from Northwestern and joined The Moody Blues?
I did literally hundreds of TV commercials. Then I got into working on movie soundtracks once I got to know Randy Newman in Los Angeles. He was very good to me; he introduced me to a lot of composers and studios in L.A. I've done quite a few major movies because of Randy's help. And then live stuff, playing with my own band, Bahu-Rang, and just being a freelance musician, playing gigs with classical trios, weddings, whatever. But I haven't done those in a long time.
Which movie soundtracks have you played on?
Jurassic Park 2 and 3. All three of The Matrix films. Toy Story 2. We're about to do Toy Story 3 tomorrow. I just finished The Princess and the Frog a couple of weeks ago. Cars, Monsters Inc., Seabiscuit. I can't really remember all of them, but that's a good sample.
Have you ever met Ray Thomas, the original Moody Blues flutist?
Yes I have. I've been to his house in England several times. I met him when we were doing a UK tour about a year ago in the fall. And actually, he introduced me to my fiancé. It's a small world. We have been back several times to Ray's house. He's great, a really nice guy.
Do you come from a creative family?
I do. My mother was a violinist. My grandmother was a pianist, and, indeed, my whole family played music. I'm one of six kids — one boy and five girls. All of my siblings are very artistic, whether it's photography, visual arts, theater or music.
What other instruments do you play during shows with The Moody Blues?
I play rhythm guitar and harmonica and do background vocals. I also play a really mean tambourine. It's funny, a friend of mine saw me once, and he said, "I didn't know you studied tambourine at Northwestern!"
Why aren't there more flutists in rock?
I don't know if there's a lot of opportunity for flutists to play in rock, unless they create it themselves. That may be partly due to the fact that the flute is not a very easy instrument to amplify. But I think it's great for rock; the minute the flute starts playing, it's a whole different vibe.
Having been classically trained, I enjoy bringing that experience to a rock 'n' roll setting, which for me was a revelation! It's also fun to be one of seven as opposed to one of a hundred in an orchestra — if you have an ego like mine, ha-ha! I don't have a bad ego. It's a good ego.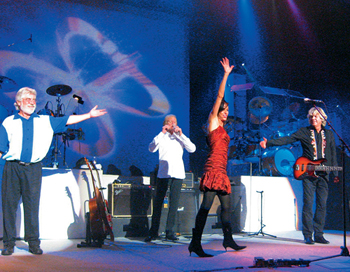 One of The Moody Blues' later hits was called "Your Wildest Dreams." Did you ever, in your wildest dreams, think you'd become a rock star?
When I was 8 or 9, I said to myself, "I want to do two things: I want to play in movies, and I want to play in a major band. It doesn't have to be my music; it just has to be a major band. I don't want to be in some struggling band. I want to be in some huge rock band." And now look what I've gotten to do. It's funny because I kind of forgot that I said that, and then it happened.
But no, never in my wildest dreams. I'm very lucky that they thought of me when Ray decided not to work with them anymore. I'm sure they could have gotten any number of people. I'm glad they called me.  
How do audiences react to seeing you with the guys in the band?
They're great. At first I think they were a little like, "Where in the world is Ray? That's not Ray. What's going on?" And it was kind of scary. I guess I eventually grew on them. But I think they like me now. I jump around; I'm crazy up there. I'm definitely into what I'm doing — a little bit embarrassingly so. And I think I bring some energy to the stage because I love what I'm doing. What can I say? I can't hide the fact that I'm having a good time, even when I try to.
The first time you played "Nights in White Satin," what was going through your head?
"What in the world makes me think I can do this?" That's what was going through my head.
We rehearsed and rehearsed because I had to learn the entire show, 22 songs. I was so busy learning the show that it didn't occur to me what I was doing.
Then, as we were walking onto the stage the first night, I said to myself, "What am I thinking? I don't know how I'm going to do this." Then I looked down and saw the rest of the band's feet — we were all walking in a line — and I thought, "Think of the thousands and thousands of times they've done this. They seem to be OK. So maybe I can do it too. You're going to do it because you don't have a choice. Then later you can figure out how you did it."
It was pretty overwhelming. But the minute the music started, I was fine. It was just walking up the stairs onto the stage that was difficult; it was the first time it occurred to me: "This is not just any dance."
Last question: Groupies?
Yes, old men and lesbians! No, I'm totally joking.
There's something about being onstage that makes people lose their boundaries in regard to you. It's a weird thing. I was very open to all of that at first. I think my phone number was publicly listed. That's the kind of stuff you learn to change very quickly. People get quite obsessed. It's a good and a bad thing. You just have to be careful. Yes, it's a compliment; I'm glad they like my performing. But you've just got to draw the line regarding your private life. I had no idea; I was totally naïve. But you live, you learn!
Christopher Danzig (J08) is a freelance journalist who lives in Chicago. He has worked at InsideCounsel and interned at the Chicago Reporter and Northwestern magazine.
Tell us what you think. If you have any questions or comments, please e-mail the editors at letters@northwestern.edu.