---
by Christina Rosales

After an all-day journey on foggy mountain roads and down a river through a rain forest, Kiersten Regelin and her Reach the World crewmates arrived at the Costa Rican island village of Tortuguero — known as the land of turtles. When they reached the hostel on the Caribbean coast, they dropped their bags and headed for the moonlit beach, searching the sand for newly hatched sea turtles.

Suddenly their guide spotted a shadowy figure lying in the sand — a jaguar.

"We have to turn back," the guide told them. "If we go closer, it will get scared. It could attack us."

It was one lesson in an excursion full of teaching moments for Regelin (KSM09), Stefan Jensen (WCAS09) and two fellow travelers on their eight-month bike tour of Latin America. They share lessons about life in Latin America — history, art, culture and, in this case, nature — with schoolchildren in Chicago through Reach the World. The New York– and Chicago-based nonprofit connects volunteer international travelers with students with the goal of helping children become responsible global citizens.

The Bike Latin America crew shares its adventures with 2,500 elementary and middle school students who are following the journey online in 76 Chicago Public Schools partner classrooms, as well as a few classrooms in the Chicago suburbs and South Bend, Ind. (Keep up with the Latin America team on the Reach the World "Bike Latin America" page.)

The Bike Latin America travelers will pedal more than 5,000 miles of the 8,000-mile trip — approximately 60 to 80 miles a day by bike, though the riders occasionally take a bus, rent a car or even catch a lift in a cattle truck with local cowboys.

The riders are following a route from Mexico through Central America to Ecuador, Peru and Bolivia before reaching their final destination in Georgetown, Guyana. By the end of the intercontinental journey in mid-May, the riders will have visited 14 countries and crossed the equator twice.

They deal with the aches and pains that come with long days in the saddle under the hot sun. With tents, clothes and cooking and camping gear, the bikes weigh more than 100 pounds each. Several riders have suffered blistering sunburns. They've also combated dehydration and salt loss.

When the bikers do get to clean up, it's often in the form of a cold-water bucket shower. But the savvy travelers have learned to stop at the firehouses after arriving in small towns — the "bomberos" usually let the bikers use their showers in the fire stations.

The Latin America expeditioners have also done good work along the way, volunteering at Casa Guatemala, an orphanage for 250 kids in Río Dulce, Guatemala, and assisting with relief efforts in Verapaz, El Salvador, after a November tropical depression caused major flooding and deadly landslides.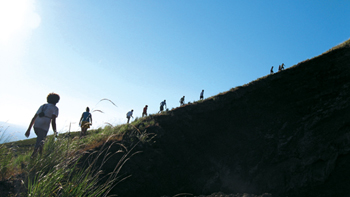 The riders post new material each week on the RTW web site — articles for second- through eighth-graders, photos and videos, and journal entries. Students can ask questions of the riders and receive personal responses. The Bike Latin America crew answers an average of 300 questions each week from Chicago-area students. The riders also conduct a video conference with each classroom at least once during the journey. (The crew posts stories and photos for older readers on their Wend magazine and "Bike Latin America" blogs.)
Throughout the expedition, RTW's 14 interns in the Chicago office work with classroom teachers for an hour each week to integrate material from the journey into the existing social studies and science curricula. Teachers can also ask the travelers to provide primary source research on the regions they're visiting.
At the end of the school year, RTW sends all of the students from partner classrooms on a field trip. The students following the Latin America expedition will visit the Shedd Aquarium and explore its Amazon exhibits.
The riders spend a month before and after the journey in the partner classrooms, talking about their travels, their mode of transportation and why these types of cultural interactions are important.
During a visit to a Chicago elementary school last September, the crew told the students they would be biking all over Latin America and they were excited to visit Mexico.
"A girl at this predominantly African American school raised her hand and asked 'Why would you want to go to Mexico?'" Regelin recalls.
Regelin realized that this question went to the core of RTW's mission. In Chicago, she says, many of the RTW partner schools are severely underfunded in some of the city's most impoverished neighborhoods.
Brian Sabina (McC05), co-founder and program director for RTW-Chicago, says most inner-city Chicago students have never been downtown or even to Lake Michigan.
"These kids are extremely isolated from the world outside of their neighborhoods," he says. "We address this issue with the power of technology and travel."
Jensen, who grew up in Topeka, Kan., and Seattle and has now visited every continent except Antarctica, believes the model works. "In teaching people to be global citizens," he says, "I think the realization that 'foreign' means exciting and interesting rather than scary and dangerous is perhaps the most important part of Reach the World."
The travelers, all volunteers, cover their own travel expenses (an estimated $7,500) through fundraising from friends, families and special events, and they make personal contributions to RTW as well. Outdoor outfitters and computer companies provide some of the crew's gear and equipment.
In 2006 the National Geographic Education Foundation named RTW a model program in geography education, one of only six in the nation.
The organization, founded in New York in 1998, has numerous ties to Northwestern. Six alumni, all former members of the Northwestern University Sailing Team, founded the Chicago branch in 2006. (See "Club 'Cats," summer 2006.) The group sailed around the world on RTW-Chicago's maiden voyage between 2006 and 2008, with Aaron Lasher (WCAS05) as captain. Fellow founders Ryan Whisner (SESP05) and Eric Stuck (McC05) also traveled on RTW-Chicago's second expedition, an unsupported bike trip from Cape Town, South Africa, to Cairo during 2008-09. (Jake Byl [WCAS05] and Ashley Metz [WCAS05] were also RTW-Chicago co-founders.) Last year John Huston (WCAS99) partnered with RTW-Chicago to share news of his expedition to the North Pole with Chicago Public Schools students. (Read more about Huston's expedition in "To the Top of the Earth," fall 2009.)
All this exposure sparks international interest in the students, says Regelin, a former Yellowstone National Park guide who has visited more than 25 countries in her life. "It gets them excited about travel," she says. "And if they make that a goal and understand how it relates to education as well, I think it's a motivating avenue toward success." 
Christina Rosales of Laredo, Texas, is a junior journalism major and an editorial intern at Northwestern magazine.
Tell us what you think. If you have any questions or comments, please e-mail the editors at letters@northwestern.edu.