---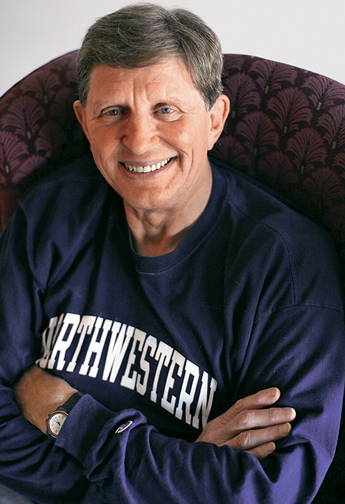 After a career in which he broke 16 Northwestern records, Joe Ruklick (SESP59, GJ90) may be best remembered for a single pass in the NBA.
On March 2, 1962, Philadelphia Warriors star Wilt Chamberlain was making history against the New York Knicks. In the fourth quarter coach Frank McGuire sent Ruklick, a Warriors backup, into the game. With 46 seconds left Chamberlain had scored 98 points.
"I get the ball to Wilt," Ruklick says. "And instead of jamming it and humiliating the guy guarding him, he finger-rolled it in. I ran to the table and told the official scorer, 'Give me the assist.' "
Later, Chamberlain told Ruklick he had asked McGuire to put him in because Chamberlain believed some white players on his team didn't want to see him score 100 — still an NBA single-game record.
Ruklick first met Chamberlain when Northwestern visited Kansas University in 1956 for Chamberlain's first collegiate game, and they became lifelong friends. But his dealings with the NBA great are only part of Ruklick's story.
Ruklick, who grew up in Chicago, was sent to Covenant Children's Home in Princeton, Ill., at 11 years old when his mother fell ill with tuberculosis. At Princeton High School in 1952, the basketball coach noticed the 12-year-old Ruklick and urged the nearly 6-foot freshman to try out. By the end of his senior year Ruklick was a high school All-American.
That summer, Ruklick says, he received numerous athletic scholarship offers from colleges and universities. "NU was one of what seemed like only a few schools that played fair in recruitment and the only one that noticed I was a good student," he says.
He says he cherishes his time at Northwestern, where in a psych class he met his wife-to-be and mother of their three children, where he was elected to the senior honorary organization Deru and where in his first assignment for the Daily Northwestern he reported on the premiere issue of TriQuarterly, the University's literary magazine.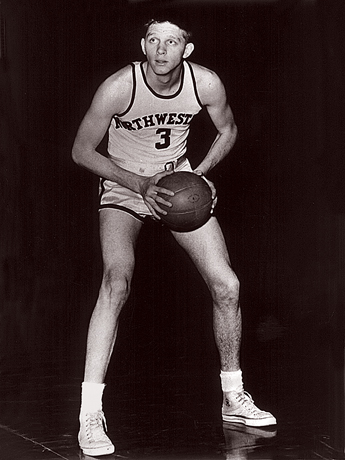 An All-American in 1958, he also starred on some of the Wildcats' best basketball squads and was named a charter member of Northwestern's Athletic Hall of Fame in 1984.
The NBA's Philadelphia Warriors drafted Ruklick in 1959, but during three seasons he averaged only 8 minutes and 3.5 points per game. "Then the owner, Eddie Gottlieb, called me to his office to talk contract," Ruklick says. "He said the team was moving to San Francisco. I asked him why he wanted me on the roster after I had played so little.
"'You're white,' he said. 'If you have too many Negroes, fans won't buy tickets,'" Ruklick recalls. "I went home, discussed it with my wife and went to look for a job."
For the next 28 years Ruklick was a salesman, editor and vice president of the Evanston-based National Merit Scholarship Corp., where he was in charge of sponsored merit scholarship programs. He taught literature and writing at Barrington High School for two years while he worked on a master's degree in literature and then, at 50, he enrolled in the Medill School of Journalism's graduate program.
In 1999 he met with Chicago Defender publisher Col. Eugene Scott to discuss the possibility of Ruklick investing in the African American newspaper. Instead, Scott offered him a job as a beat reporter.
His first assignment was to report on the murder of former Northwestern basketball coach Ricky Byrdsong. "It made the banner my second day on the job," he says. "I went on to cover almost everything, and during the last three of my five years with the paper I wrote the daily editorial.
"I saw racism and abuse from the perspective of victims, and I saw the reasoned response to it by talented black journalists," Ruklick says. "I met Tuskegee Airmen. I met stars of the old Negro League. I looked into their faces and heard their voices, and I wrote. It was a privilege."
Scott remembers Ruklick as a towering, physical presence in the newsroom. "The thing that really impressed me about Joe was his honesty and integrity and his always seeking balance when he wrote stories," Scott says of the only white member of the editorial staff.
Since retiring in 2004, Ruklick freelances for a pro basketball magazine and occasionally sells a story to other publications. He's working on a memoir about racism in pro basketball at a time when, he says, the NBA missed its opportunity to advance the civil rights movement.
"My title is Too Many Negroes," Ruklick says. "My agent's dubious. I think it'll work."
— Robert Levin (J12)
Current photo by Lauren Pond (J09, WCAS09)