---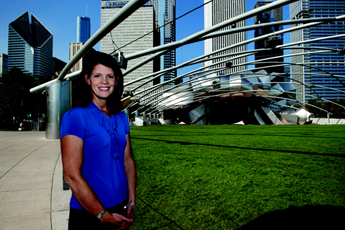 In 1990 Dorothy Coyle turned down an advertising job with the Chicago Bulls — a commission-based position — just before Michael Jordan and the team won the first of their six NBA championships.
 "I might have done OK with that commission," she jokes, looking back at that turning point.
Instead, Coyle (KSM01) accepted a job with the Chicago Office of Tourism. But she has no regrets, she says, because she picked a winner after all — the City of Chicago.
With degrees in journalism and economics from Marquette University, Coyle joined the COT's media relations department in 1990. She became director in 1999, just in time to plan Chicago's International Millennium Celebration, when she and her staff worked to bring two people from 177 nations to Chicago.
A few years into her tenure with the COT, Coyle decided to pursue an MBA from Northwestern's Kellogg School of Management to develop "the marketing expertise needed to successfully promote a city," she says. "Tourism is an economic development tool, and my academic experience at Kellogg provided valuable knowledge in relevant areas of marketing and management."
Coyle now serves as the city's main pitch woman, selling the fabulous sights and sounds of the Windy City, from Millennium Park and the Magnificent Mile to the city's diverse ethnic neighborhoods.
"I love Chicago as a whole, and there are so many different dimensions to the city," says Coyle, sitting in her Chicago Cultural Center office that overlooks Millennium Park's Jay Pritzker Pavilion. "Chicago is really considered a leader and pioneer in promoting cultural tourism."
Chicago is the only city in the country that has its entire tourism operation housed within a cultural affairs department. This uniquely enables Chicago to promote cultural events, such as the Cows on Parade art exhibit or Millennium Park summer concerts, as tourism drivers.
Coyle leads programs and marketing efforts to attract visitors — including Chicagoans themselves — to the city, initiatives that include the Chicago Greeter service, neighborhood tours and the creation of ExploreChicago.org, as well as social media outreach with Twitter, Facebook and, most recently, Foursquare when Chicago recently became the first city to partner with the location-based social networking service.
Coyle's strategies have been successful.
"In the past five years we've seen a 47 percent increase in leisure travel," says Coyle. Millennium Park, which opened along Michigan Avenue north of the Art Institute of Chicago in July 2004, has become a major attraction, drawing more than 4 million visitors annually.
More than 45 million tourists, including 1.4 million from overseas, visited Chicago in 2008. Those tourists spent $30.8 billion in Illinois and helped create 303,500 jobs in the travel industry, Coyle notes.
In addition to boosting tourism from outside visitors, Coyle has helped create programs for Chicago-area residents as well. Last summer's Explore Chicago: Take a Neighborhood Vacation program encouraged Chicagoans to rediscover their own city.
There is much more work to be done to help showcase the city's neighborhoods, Coyle adds, citing Hyde Park as an example. Home to the University of Chicago, the neighborhood has attracted increased attention since the election of President Obama (H06).
"I think that Hyde Park is a great example of Chicago's neighborhoods and the discoveries you can make close to home," she says, lauding the DuSable Museum of African American History, the Oriental Institute Museum and the Frederick C. Robie House designed by Frank Lloyd Wright as Hyde Park cultural opportunities.
Thanks to a grant from the 2016 Fund for Chicago Neighborhoods, established to support the city's Olympic bid and ensure lasting benefits for Chicago's communities and residents, the COT researched and discovered unique tourism assets in every neighborhood of the city. ExploreChicago.org now includes more than 2,000 attractions throughout Chicago's 77 communities, including Oak Woods Cemetery in Greater Grand Crossing, which houses the remains of thousands of Confederate soldiers from a Civil War camp, as well as the gravesites of Olympian Jesse Owens and Mayor Harold Washington (L52), and Louis Sullivan's last design — the façade of the Krause Music Store on Lincoln Avenue in Lincoln Square.
Coyle, who met her husband, Todd Raclaw (KSM01), at Kellogg, has 5- and 7-year-old sons and a 1-year-old daughter. She doesn't get much free time, but when she gets out of the office, she likes to walk or ice-skate at Millennium Park or catch up with nature at the warm Garfield Park Conservatory during Chicago winters.
Wherever she goes, Coyle constantly promotes all that Chicago has to offer. When she recently visited her son's preschool in Chicago's Sauganash neighborhood to tell the class about her job, Coyle did a presentation on Chicago and its attractions.
"At the end of the last class, when everyone was leaving, I saw this little girl crying, and I thought, 'Oh, maybe I talked too much and she had to go to the bathroom or something.'"
Then the teacher told Coyle the little girl was crying because she wanted to go to downtown Chicago to see the sights.
"I wanted to say, 'I will take you!'"
— Sisi Tang (J11)