---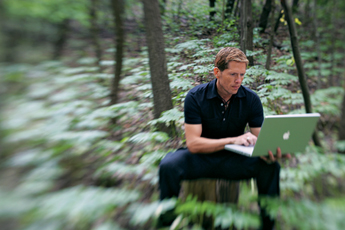 A lot of us have probably daydreamed about quitting our jobs, moving to a cottage in the woods and maybe even writing a book. Most of us never do. But Wade Rouse (GJ88) took the risk, and boy, was it worth it.
Last year Rouse's breakthrough memoir, At Least in the City Someone Would Hear Me Scream (Harmony, 2009), hit shelves to widespread praise. It landed on the 2009 summer reading lists for the Today Show, Detroit Free Press and Out magazine, among others.
The book, according to Rouse, "chronicles the adventures of my partner, Gary, and me, a highly neurotic urban couple who uprooted our lives in St. Louis and left the city, cable, culture and consumerism behind to move to the woods on the lakeshore of Michigan in order to re-create a modern-day Walden."
Not an easy transition for a man who admits to considering Kashi a fundamental staple and Kathy Griffin on a par with Gandhi. But Rouse made it work: He and his partner still live in the same knotty-pine cottage just outside Saugatuck.
As a writer, Rouse wants to make readers "laugh and cry in the same sentence," and his book describes the perils — and benefits — of the simple life. At Least in the City, which comes out in paperback June 1, begins with a quote on the wonders of nature from Thoreau's Walden. And then, a page later, comes a description of a raccoon attacking the author's head and ruining his Banana Republic leather coat.
There's a point to the silliness, though. Rouse says the main theme is to find yourself and follow your passions before it's too late.
Rouse's writing is sometimes brutally honest about the people in his life — not only about himself but also his partner, his friends and family, his former co-workers and, in this case, the denizens of his new town — including the multiple neighbors who had casually mentioned that they had watched him with night-vision goggles.
"I treat everyone the same way: catty but tender," he says. "We're all flawed people. You have to show that to show the truth."
Rouse's nonfiction has always hit close to home. In his first memoir, America's Boy (Dutton Adult, 2006), a Borders Best Book in the literary memoirs category, Rouse recounts his rural childhood in the Missouri Ozarks. His second memoir, Confessions of a Prep School Mommy Handler (Harmony, 2007), recounted his tenure as public relations director at an elite prep school where he learned his real job was to cater to a Lilly Pulitzer-clad clique of "mean mommies."
And his upcoming memoir, It's All Relative: A Memoir of Two Families, Three Dogs, 34 Holidays and 50 Boxes of Wine (Harmony), due out March 2011, deals with America's obsession with picture-perfect holidays and looks at the evolution of family through the lens of different holidays.
When writing about the people in his life, Rouse takes author Anne Lamott's advice: "Write as if your parents are dead." It's tough, Rouse says, but if you sit down in front of your laptop and feel afraid of what opinions people might have, your writing won't resonate.
"I have to write what's bubbling out of me," he says.
Rouse recently took on a new, less emotionally vulnerable group of subjects: dogs. A lifelong dog lover and the owner of two rescue mutts named Marge and Mable, Rouse created and edited an anthology about famous humorists' dogs, I'm Not the Biggest Bitch in this Relationship! (NAL/Penguin). The collection will be published in late 2011, and proceeds will benefit the Humane Society and other animal shelters.
Of course, it's funny. That aspect of his storytelling won't change. "I love people who can make you laugh but also connect with universal themes," he says. "The most poignant [moment] is when you're being funny."
— Kent Cubbage and Christopher Danzig (J08)