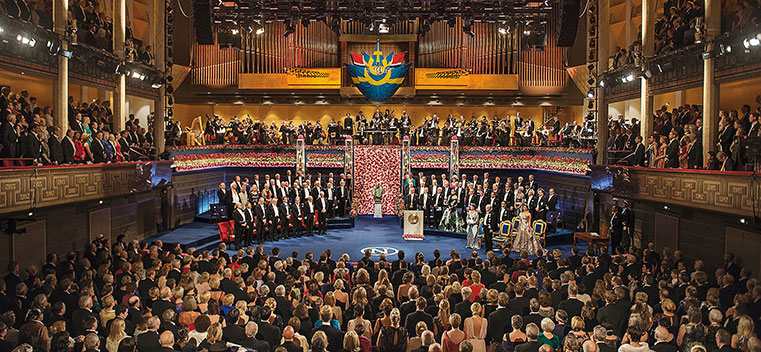 The 2016 Nobel Prize Award Ceremony on Dec. 10 at the Stockholm Concert Hall. Photo © Nobel Media AB 2016/Pi Frisk.
Nobel Week
Story Tools
Share this story
J. Fraser Stoddart celebrates the Nobel Prize in Chemistry with lectures, a concert, a banquet and a White House visit.
When scientists share a Nobel Prize, only one of them gets to give a speech at the Nobel Banquet. A few days before the event, chemistry Nobel winners Ben Feringa and Jean-Pierre Sauvage asked their fellow laureate, Northwestern's Sir J. Fraser Stoddart, to do the honors at the 2016 Nobel Banquet, held in the grand Blue Hall of Stockholm's City Hall. Stoddart, a gifted storyteller, is known for his eloquent turn of phrase.
So on the night of Dec. 10 the Scottish-born Stoddart stepped up to the lectern before the 1,350 elegantly dressed guests and Swedish royal family and briefly described the molecular machines that Feringa, Sauvage and he had designed and created. Stoddart also thanked the hundreds of colleagues and students from more than 30 countries who shared in the three scientists' decadeslong research. And then he made the most important point of his speech.
"Our chemistry has been conducted without prejudice and has recognized no borders," Stoddart said. "Science is global, and there's no going back, even in the face of the uncertain future that pervades some of the Western world's major democracies today."
The speech drew bravos from many of the 80 scientists, postdocs and family members whom Fraser had invited as his guests to help him celebrate Nobel Week in Stockholm.   
"I was welling with pride as I heard him speak," says Will Dichtel, the Robert Letsinger Professor of Chemistry at Northwestern and a former postdoc of Stoddart's at UCLA. "I think Fraser very much had a sense of the moment, and he did not waste that opportunity."
What touched Dichtel's heart was "the deep connection Stoddart made between science and society, and between science and art, and that Fraser was able to state in a formal way that science is affected by the politics of our day, without being too negative about it. He was also saying that when we make political decisions, it affects what humankind can achieve."
The banquet was one of the high points of Nobel Week, which included the Nobel lectures given by each recipient, the Nobel concert, the Nobel Prize ceremony and dinner with the Swedish royal family at their palace.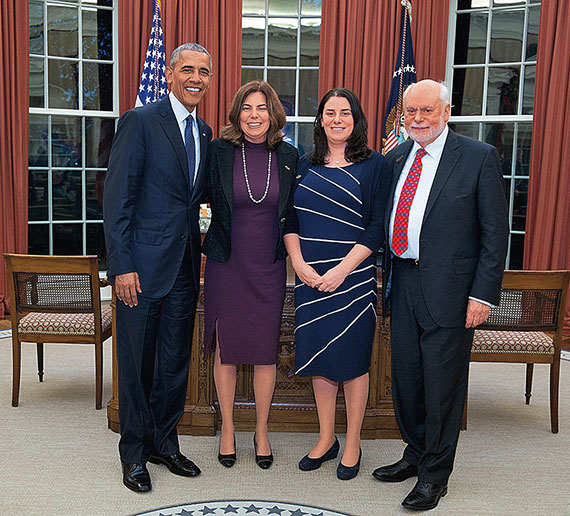 Last November then-President Barack Obama '06 H welcomed Nobel laureate J. Fraser Stoddart and his daughters, Fiona McCubbin, left, and Alison Stoddart, right, to the White House. Official White House Photo by Pete Souza.

It was a whirlwind week and one that Stoddart shared with his daughters, Fiona ­McCubbin and Alison Stoddart, their husbands and children, relatives and his extended family — ­current and former postdocs and graduate students and their families.
Stoddart put most of them up at the historic Grand Hotel in Stockholm, where he and the other Nobel laureates were staying.
It didn't take long for Team Fraser to become well-known to the hotel staff. Stoddart even rented a conference room and had it catered so his group could relax, grab a bite and just hang out together. Team Fraser created their own WhatsApp group so everyone knew what people were doing — and they posted photos of the Nobel events and outings on Twitter. To keep up to date with the team on social media, Stoddart himself created a Twitter account (@sirfrasersays) on the ­Monday of Nobel Week. By week's end he had more than 1,000 followers. — S.R.