Fraser Stoddart: Lighting Up Life on the Farm
Story Tools
Share this story
Fraser Stoddart describes how in 1959 he helped bring electricity to the tenant farmhouse where he grew up.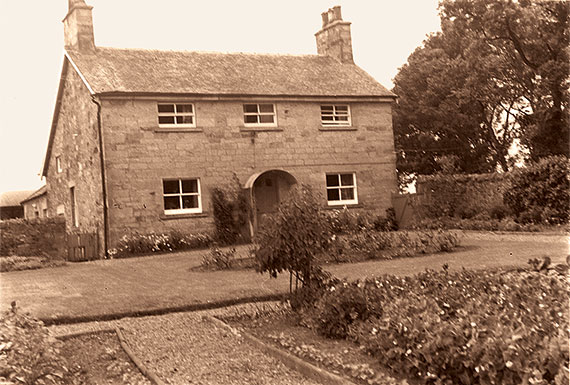 The tenant farmhouse where Fraser Stoddart grew up, on the Rosebery Estate in the council area of Midlothian, Scotland.
I remember the day "the electricity," as it was called, graced the farmhouse for the first time very clearly indeed. it brought out the daredevil side of my character. 
It was Christmas Eve 1959 when we received word that the folks entrusted with putting in the meter would not be showing up as promised, and what was more, they would not be coming until January 2, 1960, at the earliest. The disappointment in the household was palpable. We had been so looking forward to celebrating Christmas and New Year's and the long-awaited (17 years!) arrival of "the electricity" with extended family and friends.
I had helped the electrician (a character if ever there was one, by the name of Phil MacKay) during the preceding months wire the farmhouse and steading and so was pretty knowledgeable when it came to wiring. Unbeknownst to my parents, I waited until "the milking" (we had 32 dairy cows) was over and we were all getting ready to sit down and have a Christmas Eve supper.
At that point I fetched a pair of step ladders and climbed up to a point near the ceiling where the meter should have been in place and joined up the first pair of wires between the house and the grid. Nothing of note happened, of course. On joining up the second pair of wires, however, there was a blinding flash (240 volts), and much of the house was ablaze with light for the first time, since at least half the switches were in their "on" positions.
There was a lot of noise. My mother was beside herself. She was convinced that someone would report us to the police and we would all end up in jail! ­Reason, aided and abetted by the loss of something we had been so looking forward to having over the holiday, prevailed. My mother was persuaded that by drapes we could harbor the secret and have "the electricity" after all.
And so it was that for more than a week we had "the electricity" for free, and did we not use it to full advantage. In the years to come, we became much more conscious of switching off lights, for that practice had a bearing on the size of "the electricity" bill. I guess we did read more, and I had no excuse not to do my homework. The television arrived soon thereafter, and life was never quite the same ever again.