Regional Clubs
---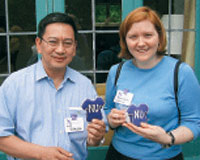 Photo by John Winkelmann (WCAS77)
At the annual Northwestern Alumni Association Leadership Conference last October, alumni club leaders from around the country shared their success stories and plans for the year ahead. The NU Club of Cincinnati received the NAA's Club of the Year award, the NU Clubs of Austin, Detroit and Sun Cities received special recognition honors, and the NU Clubs of Boston, Portland, Seattle and Virginia earned developing club recognition.
Last October members of the NU Club of Chicago came to campus for the latest in the NAA's Northwestern Explores series, "Small Is Big: Science that's Changing the Quality of Your Life." In what has become an annual event, members of the NU Club of Chicago Young Alumni chapter hosted a Homecoming party at Duffy's Tavern and Grill in Lincoln Park, which attracted nearly 400 young alumni from around the country.
Also last fall, members of the NU Club of Coachella Valley cheered on the Wildcats from the Beer Hunter Sports Pub and Grill in La Quinta, Calif. The club's calendar also included a January theater party at the Fabulous Palm Springs Follies, a February visit with Northwestern President Henry Bienen and an April party at the home of Doug Westwater (WCAS67).
On March 20 the NU Club of Sarasota/Manatee will celebrate the School of Communication's 125th anniversary as part of the club's Sarasota Seminar Saturday! program at the Waterside Room at the Sarasota Quay, Tamiami Trail in Sarasota. The celebration will also make stops in Tampa Bay, Naples and Palm Beach.
A matinee, lecture and reception highlighted the NU Club of Virginia's October 2003 theater outing. About 30 alumni traveled to Staunton, Va., for the production of Molière's Tartuffe. Following the matinee, theater professor Cindy Gold gave a talk about the playwright. Members attended a reception at the Twelfth Night Inn, owned by John Swenson (EB68).
Get active! Learn how to participate in NAA clubs. Click here.