Roman Holiday
U.S. Ambassador Mel Sembler rolled out the purple carpet last November for some very special Northwestern guests.
---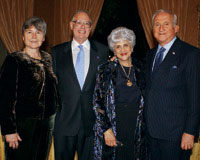 Photo by Luciano del Castillo
There's no question that being Northwestern graduates gives alumni a certain amount of entree around the world. This was certainly the case when U.S. Ambassador Mel Sembler (C52) invited University President Henry Bienen and his wife, Leigh, and Northwestern students and alumni living in Europe to an elegant party last November at his palazzo in Rome.
Villa Taverna, the official residence of the U.S. ambassador to Italy, is on a 7-acre walled estate in the Eternal City. Most Italians, let alone Americans, have never been inside the gates. Ambassador Sembler and his wife, Betty (WCAS53), opened those gates to Northwestern alumni and students two days before Thanksgiving to host a reception in honor of the Bienens. The Semblers, who met while students at Northwestern, have lived in Rome since November 2001 when President George W. Bush appointed Sembler as the U.S. ambassador.
In the middle of his welcome remarks, Ambassador Sembler broke into the Waa-Mu Show's signature song To the Memories. It was clear that this was not the usual dull official reception, but rather, as President Bienen asserted as he presented the Semblers with a beveled crystal box, a gathering of "extraordinary people in an extraordinary place."
The Bienens traveled across the Atlantic, but they weren't the only guests to journey a long distance. Once the Northwestern Alumni Association went into action weeks earlier, contacting students and alumni in Italy, Northwestern travelers made plans to converge on Rome for the elegant reception.
Ronald Dei Cas (WCAS85, FSM89, GFSM90), an ophthalmologist working in research and development for the pharmaceutical company Allergan Inc. in Washington, D.C., got a message from his pal Carol Frank (WCAS85) inviting him to join her at Villa Taverna. Dei Cas, who had just returned from a trip to Paris, headed back to the airport and flew to Rome for the reception.
"Carol and I have been fast friends since our NU days, and we hadn't seen each other for six years," said Dei Cas, who is also a former competitive figure skater and now a skating competition judge. "So I managed to book a flight and come over at the last minute. What's more important than old friendships?"
Frank met up with Dei Cas in Rome after traveling from her home on Lake Como in northern Italy, where she coordinates the business Weddings in Italy. "I came to Italy just for a vacation a few years ago," she said, laughing, "and I never went back."
Also traveling from parts north were current Northwestern students studying in semester- or year-abroad programs in the Northwestern-affiliated Syracuse in Florence program and Boston University's Padova Language and Liberal Arts Program in Padua.
"I don't want to go back home just yet," lamented Blake Bible, a School of Communication junior from Chicago who returned to the States after the fall quarter.
But Danielle Uhlarik, a School of Communication senior from Justice, Ill., has a newfound appreciation for the United States. "When I first arrived in Italy, everything was wonderful, new and exciting. However, it was through an appreciation for another culture that I began to acknowledge American culture — a great culture that I can identify as my own. I'm not sure I fully appreciated it before living here in Italy."
Alumna Judy Rush Johnston (WCAS58) of Highwood, Ill., was one of several alumni in attendance who stayed over for the Rome reception following an NAA Alumni Campus Abroad trip to Orvieto, an Umbrian hill town located about an hour north of Rome that is famous for its cathedral, wines and ceramics.
Another State-side representative, Enrico Ciotti (GMcC95), attended Northwestern as an international student from Italy, then later returned to the States, where he now resides. Ciotti, speaking with a group of Italian alumni, switched easily back and forth between Italian and English throughout the evening.
Being bilingual also gives Marian Sagona (Mu76), an attorney living in Verona who specializes in international trade issues, an edge in her work. "My Northwestern education created for me an extraordinary base from which I have built my international career and life," she said. Sagona, who has dual U.S. and Italian citizenship, was impressed with the people she met at the Villa Taverna reception. "I continue to be amazed at the talents and accomplishments of my fellow alumni. Ambassador and Mrs. Sembler are not only wonderful representatives of the United States here in Italy, but also speak well for all of us Northwestern alumni."
Betty Sembler's own remarks about the value of a Northwestern education seemed to prove Sagona's point. "Meeting these remarkable people just confirmed what I've realized more and more throughout the years: that attending Northwestern was the best decision I ever made." She thought for a second and then smiled at her husband. "The second-best decision."
Upon his return to Evanston, President Bienen was full of praise for the reception in Rome. "The party at the embassy in Rome was truly a wonderful event, and we're very grateful to Ambassador and Mrs. Sembler for hosting it," Bienen said. "The Northwestern Alumni Association wanted to bring together many generations of the Northwestern family, including alumni, current students and alumni travelers. Thanks to the graciousness of the Semblers and the staff at the embassy, we were able to do so in a beautiful setting at their residence."
— Francesca Huemer Kelly
Francesca Huemer Kelly (Mu79) is the founding editor of Tales from a Small Planet, an online nonprofit magazine for expatriates. Wife of U.S. diplomat Ian Kelly (G79) and the mother of four children, she currently lives in Rome and performs regularly as an oratorio soloist.