McCormick
---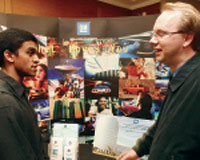 Photo by Jasper Chen
Last fall Robert R. McCormick School of Engineering and Applied Science alumni who are also members of the Walter P. Murphy Giving Society gathered in Evanston and San Francisco to help determine how alumni contributions will benefit undergraduate engineering education. The group, headed by committee chair Samuel Sperry (McC65), reviewed faculty proposals and recommended funding for experiments in ceramic fuel cell processing and testing, undergraduate projects in nanoscale engineering and design, and modern circuits and signals laboratory development.
Last October McCormick alumni discussed permanent job placement and internship opportunities at the school's Industry Day job fair sponsored by the student chapter of the Society of Women Engineers at the Omni Orrington Hotel. GM Day @ McCormick featured Richard Schreck (McC66, GMcC69, 72) and Stephan Biller (GMcC96) at the Technological Institute. At Eaton Day @ McCormick, Bryan Mills (McC02) and Laura Thysell (McC00) met with students.
For the latest alumni news from the schools, click here.