National Clubs
---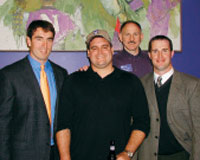 Photo by Chris George
Last October members of the Council of One Hundred celebrated its 10th anniversary by co-sponsoring an etiquette banquet with the NAA and Northwestern Class Alliance, at the Omni Orrington Hotel in Evanston. Weinberg College of Arts and Sciences junior Elizabeth Kobeszka and Janjri Jasani, a Weinberg senior, received the council's annual Trailblazer awards there.
As part of its fall gathering last November, members of the John Evans Club and their guests returned to campus for a performance of Footloose at Cahn Auditorium and the following day gathered for a party after the Wildcats' football game against Michigan. On April 30 members will join Arthur Pancoe (G51) for a tour of the new Arthur and Gladys Pancoe–Evanston Northwestern Healthcare Life Sciences Pavilion. On May 1 the club celebrates its 50th anniversary in conjunction with its annual Waa-Mu dinner and performance event.
The N Club wrapped up a season of football postgame gatherings and is continuing its efforts to raise $25,000 for an endowed scholarship for student athletes. In May, the group holds its induction banquet for graduating seniors.
In New York, NUEA (Northwestern University Entertainment Alliance) East sold out last November's Fall Follies show at the Makor Café. The production, directed by Jan Bender (G56) and music directed by Dan Lipton (Mu97), featured performances by Northwestern's current and up-and-coming Broadway stars.
Get active! Learn how to participate in NAA clubs. Click here.