School of Law

---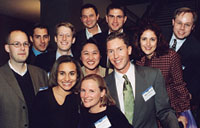 Members of the law school class of 1996 celebrated their fifth reunion, held in October on the Chicago campus.

photo by Jim Ziv
This year's John Henry Wigmore Club Dinner brought law alumni and benefactors to the Mid-Day Club in downtown Chicago last October.

Guests heard a presentation, Despite Innocence: Wrongful Convictions in America, by professor Larry Marshall (L85) and Rob Warden, legal director and executive director, respectively, of the law school's Center on Wrongful Convictions. They also participated in the unveiling of a portrait of Robert Bennett, who served as law school dean from 1985 through '95. His portrait hangs permanently at Lowden Hall.

In other news, nearly 400 alumni and guests returned to the law school in October to celebrate Reunion 2001. In addition to catching up with friends and classmates at informal gatherings, participants took part in a career satisfaction symposium and learned about the progress of the school's strategic plan. Topping off the festivities were a grand celebration cocktail reception and individual class dinners at the law school.