Special-Interest Clubs

---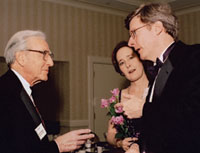 Howard Traisman (WCAS43, M46, 47) with Liz Sturgeon and her husband, Alex Rorke (S74, G75), at the John Evans Club's anniversary dinner in November

photo by Jim Ziv
FAN, the Friends of Anthropology at Northwestern, is beginning the spring season with a variety of travel and educational events. Dwight Conquergood, ethnographer, documentary producer and associate professor of performance studies, discusses ceremonies surrounding the death penalty on March 7 at Harris Hall.

In April members will join the NAA in its educational escapade to Santa Fe and Taos, N.M. The group, guided by anthopology department faculty, will explore the past and present of the Southwest.

Later in the month, professor Holly Pittman, director of the University of Pennsylvania's Center for Ancient Studies, comes to campus to deliver FAN's first Jeremiah S. and Helen James Lecture in Assyrian Civilization and Culture. Kenneth James (L59) established the lecture to honor his parents, who were Assyrian immigrants and active philanthropists.

On May 18 anthropology professor Gil Stein leads members on a tour of the permanent collection of the University of Chicago's Oriental Institute.

MOCs, Men Off Campus, formed in 1947 for World War II veterans who were commuting students, will be holding its second reunion on June 22 at the Omni Orrington Hotel in Evanston. For more information, contact Phil Podulka (EB50) at 847-729-2139 or Mel Long (EB50) at longmel@hotmail.com.

Members of the John Evans Club enjoyed an evening of stargazing at the Dearborn Observatory in October. During the event members and their families picnicked outdoors and delighted in the storytelling talents of Rives Collins, associate professor of speech and fellow in the Searle Center for Teaching Excellence.

The club also celebrated its anniversary (No. 47) weekend in November, beginning with a black-tie dinner at Evanston's Hilton Garden Inn. Northwestern President Henry Bienen spoke of the club's current and future impact on the University. Later in the weekend members gathered for a post-game party at the Stadium Club following the Wildcats' contest against Iowa. They also attended a Sunday matinee of the campus production of Titanic.

In response to the Sept. 11 attacks, the N Club raised almost $1,900 to benefit the McCormick Tribune Disaster Relief Fund. More than 200 members and guests gathered at the Goose Island Brew Pub in Chicago's Lakeview neighborhood in October to down brews, eat sausages donated by former Northwestern football player Richard "Chico" Kurzawski (SESP69) and cheer on the Wildcats as they battled Ohio State.