Field Goal
Steve Tasker (S85) had a game plan that took him from the gridiron and into TV.

---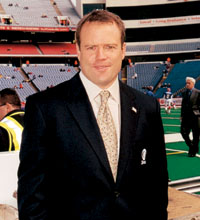 Steve Tasker (S85) knows well from his gridiron experience that preparation is half if not more of what leads to football success. In his own life he thoroughly prepared himself for not one but two careers after graduating with a degree in communication studies from Northwestern.

Tasker arrived at Northwestern in 1982, recruited out of a junior college in his home state of Kansas to play football for the Wildcats. Although he had dreams of playing in the NFL, his ultimate goal was a career in broadcasting.

"Northwestern offered me a scholarship to play football, and it was a great opportunity academically," he says. "I decided my senior year in high school that I wanted to do radio. [After playing at Northwestern] I thought I might get a chance to play football, but I didn't think I'd have a real career."

Then in 1985, just before graduation, the Houston Oilers selected him in the ninth round of the NFL draft. After a year in Houston the Buffalo Bills picked him up, and he remained there for the balance of his 13-year career. Listed as a wide receiver in both college and the pros, Tasker was always a standout special teams player. At Northwestern he was a go-to kick and punt returner, and in the NFL, even at 5 feet 9 inches and 185 pounds, he was one of the most respected special teams players in the game, known for his speed and toughness.

During Tasker's tenure in the NFL, he played in all four of the Bills' Super Bowl appearances and was selected to seven Pro Bowls including 1993, in which he became the first special teams player ever to be named the game's most valuable player.

Retiring from football in 1997, Tasker was immediately offered a contract with CBS Sports as a football color analyst, and he continues to cover a different NFL game each week. It is the culmination of years of diligent work building a broadcasting résumé while he still played football. Starting with internships and eventually landing his own show at a local Buffalo affiliate, Tasker quickly made a name for himself in that television market.

"When I was playing, I knew that you're always a broken leg away from being finished," he explains, "so I continued to do TV all through my football career."

In addition to his seasonal duties for CBS, Tasker works with the Empire Sports Network — a cable operation covering sports in western New York state.

Tasker and his family have stayed in the area, where they are active and involved residents. He is a member of the Aurora Players, one of the oldest local acting troupes in the country. "Buffalo is a very close-knit community," Tasker says. "It's very similar to where my wife and I grew up in rural America."

He and his wife, Sarah, have four sons and a daughter. His flexible schedule allows him to accompany them to their various activities, both non-sports and sports, including football. Although a supportive parent, he prefers the role of spectator to coach.

"I think it's a bad idea for professional athletes to coach their children," he says. "I think it's best to let your kids find their own way. I hope they choose the sport they're best at, whether or not it's the one I played."

By keeping his eye on the ball both on and off the field, Tasker has been able to make his mark in two separate arenas.
— Lisa Zimmerman (WCAS86)
Lisa Zimmerman is a freelance writer based in Hastings-on-Hudson, N.Y.