'Indie' Jazz Soul
Patricia Barber (GMu96), a talented jazz musician, resisted commercialization and still ended up with a successful career.

---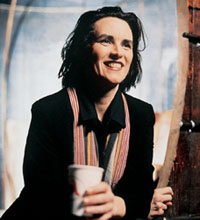 For three years, Patricia Barber (GMu96) lived on rice and beans in a low-rent apartment on the West Side of Chicago. She was willing to endure anything if it meant saving her musical soul.

"I had a lot of faith that if I just worried about the music, then everything else would follow," says Barber.

In concert the dark-haired jazz musician's brows furrow in concentration, her eyes glow with intensity, her long fingers caress the piano keys and her unique voice transmits true passion. Barber, who still lives in Chicago, is the model that all musicians strive for — a true keeper of her own music.

Barber's music is best known for its eclecticism and sophistication. Respected by jazz aficionados, Barber is an exceptional vocalist, pianist, composer, lyricist and arranger. She has released six albums so far, the latest of which is Nightclub (Blue Note Records/Premonition Records, 2000).

But none of it was easy, especially since Barber was ardent about maintaining her musical independence. She persistently refused offers from major labels because their concepts for her work were too confined.

"I wasn't career driven," explains Barber. "[The big labels] would've tried to steer the music."

However, Barber's insistence on staying with a small label, Premonition, left her to bear the experience of the struggling musician. "I was starving and didn't have any money," she says. "Because I needed the work, there were a lot of times when [club or bar] owners paid me less than they should have. I got fired a lot because I didn't play the game the way they wanted."

Squeezing by with gigs at hotels and bars (she still performs regularly at Chicago's Green Mill Tavern), Barber decided to enhance her musical knowledge. She enrolled in Northwestern's graduate music school, where she studied jazz pedagogy. "I learned a lot about postmodernism and 20th-century music," says Barber. "It had a direct effect on my next album, Modern Cool."

Her breakthrough came with that 1998 album, which hit Billboard's Top 10 jazz list and received rave reviews. She launched into tours around the nation and around the world. Barber had been right: By concentrating on the music, the rest eventually followed.

The daughter of saxophonist Floyd "Shim" Barber — who played with Glenn Miller — Barber had music pumping through her veins from the very beginning. Her father died when Barber was only 9 years old, but his influence was still strong. "My father left a legacy with music," says Barber.

Although she was born in a Chicago suburb, Barber was raised in Sioux City, Iowa. After graduating from the University of Iowa in 1979, she returned to Chicago to officially launch her career.

"As difficult as it can be, it's a great gift to be a musician," says Barber. "It's one of the most special arenas that humankind has created. It's soft, protective and lyrical — a great refuge from the ugliness in the world."

In addition to her performance career, Barber also teaches applied music and jazz at Roosevelt University in Chicago. "It's a good balance for me," she explains. "I'll teach one day, and then at night I'll fly somewhere and give concerts. Teaching's kind of a grounding for me."

In the future, she wants to engage in some "crazy and strange" art projects. But mostly she just wishes to live, breathe and move with music.

"I really love what I do," says Barber. "I want to keep my family, friends, dogs and home. I want to stay healthy and happy. Besides music, that's all I want."
— Christina Ko (J03)