Pride of the Purple
For the 73rd year the Northwestern Alumni Association honored the University's most distinguished graduates at its annual awards celebration.
---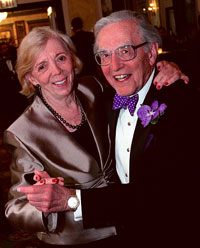 2005 Alumni Medal recipient Howard Traisman dances with his wife, Regina, following the ceremony.
Photo by Andrew Campbell
It wasn't just stage lighting that generated the purple glow at the Grand Ballroom of Chicago's Palmer House Hilton hotel April 9, it was the radiance of Northwestern pride inspired by the recipients at the 2005 Northwestern Alumni Association Awards Celebration.
Now a 73-year NAA tradition, the 2005 Awards Celebration honored 20 distinguished alumni at the annual black-tie event attended by President Henry S. Bienen, Leigh Buchanan Bienen and 383 alumni, faculty, administrators and guests.
Howard S. Traisman (WCAS43, FSM46, 47, GFSM51), a pediatrician, professor emeritus at Northwestern's Feinberg School of Medicine and attending physician emeritus of Chicago's Children's Memorial Hospital, received the 2005 Alumni Medal, the University's highest alumni honor. He was feted for his pioneering work in the treatment of juvenile diabetes, more than 50 years of service at the Feinberg School and Children's Memorial Hospital, his leadership with the Northwestern University Medical Alumni Association and his philanthropic gift that established the Dr. Howard S. and Regina G. Traisman Medical Student Center, located on the first floor of the Tarry Research and Education Building on the Chicago campus.
Timothy C. Louis (C86, GC87), a former audiologist and venture capitalist and co-founder of the Desert Voices Oral Learning Center, received this year's NAA Service to Society Award for his advocacy and philanthropy on behalf of hearing-impaired children.
Awards committee member and renowned sports journalist Christine Brennan (J80, GJ81) presented the 2005 NAA Merit Awards to John W. Bachmann (KSM62), senior partner with Edward Jones and chair of the U.S. Chamber of Commerce; James Charles Brailean (GMcC93), president, CEO and co-founder of PacketVideo; Thomas H. Carey (GJ67), retired executive vice president of Omnicom Group; Shinae Chun (GSESP71), director of the Women's Bureau of the U.S. Department of Labor; Clifford L. Colnot (GMu77), principal conductor of the Chicago Symphony Orchestra's MusicNOW series, resident conductor of the Civic Orchestra of Chicago and conductor of the DePaul University Symphony Orchestra; Charles S. Czerepak (GD83), pediatric dentist at Chicago's Children's Memorial Hospital and assistant clinical professor at the Feinberg School; Bonnie Swanson Daniels (WCAS69), director of Management Systems International; Merri Jo Gillette (SCS79), regional director of the U.S. Securities and Exchange Commission's Midwest office; Rikki J. Klieman (C70), legal analyst for NBC's Today Show and anchor for the Courtroom Television Network; Alan R. Nelson (FSM58), special adviser to the CEO and executive vice president of the American College of Physicians–American Society of Internal Medicine; Dawn Clark Netsch (WCAS48, L52), professor emerita at Northwestern's School of Law; and Joseph H. Wender (EB66), senior director of the financial institutions group and advisory director for the Goldman Sachs Group Inc.
Service Awards went to Ralph Charles Friedenberg (WCAS59, FSM63, GFSM69), co-founder of the NU Club of Albuquerque; Peter W. Friedmann (C79), co-founder and past president of the Northwestern University Marching and Band Alumni Organization; Mark A. Ledogar (C89), former NAA secretary and director-at-large and director of the NAA Alumni Awards presentation; Laverne A. McKinnon (C87), former president and current advisory board member of the Northwestern University Entertainment Alliance West; Helen Claire McMahon (WCAS55), board member and former president of the NU Club of Washington, D.C.; and James J. Palos (KSM89), former co-chair and committee member of the University's Diversity Council, 2001 NAA Awards committee chair, Kellogg School of Management alumni volunteer and Latino Alumni of Northwestern University volunteer.
To view biographies of the 2005 Alumni Awards recipients or to nominate outstanding alumni for the 2006 Alumni Medal, Merit, Service or Service to Society awards, please visit www.alumni.northwestern.edu/awards
---