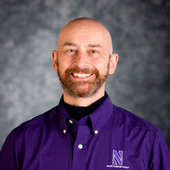 Brian (he/him/his) is a neuro-divergent, first generation, non-traditional student who earned a MA (Hons) in English from Aberdeen University, Scotland at the age of 30; and, more recently he earned a MEd in Higher Education from Loyola University Chicago working as an advisor, then director and assistant dean. 
A native of Scotland, Brian has trained in the Territorial Army as a combat medical technician, studied abroad at the University of Illinois, and has lived and worked in Scotland, England, Canada, the Netherlands, Germany, Japan, and Australia over a period of years. Don't be surprised if he encourages you to study abroad!
Since coming to America, Brian has worked in higher education in numerous roles, almost exclusively in academic advising. Here at Northwestern, Brian has helped develop our pre-med shadowing program with partners at the Glenview Outpatients Clinic and is excited to serve Northwestern students exploring a career in the health professions.