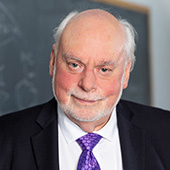 J. Fraser Stoddart (2016)
Weinberg College of Arts and Sciences
Sir Fraser Stoddart is a pioneer in the fields of chemistry and nanoscience. His introduction of the mechanical bond, which has led to the fabrication of artificial molecular switches and motors, has been responsible for putting chemists at the forefront of the burgeoning field of molecular nanotechnology, with implications ranging all the way from information technology to health care. 
Stoddart was awarded the 2016 prize in Chemistry with Jean-Pierre Sauvage of
 University of Strasbourg, France, and Bernard L. Feringa
 of University of Groningen, the Netherlands. They were recognized "for the design and synthesis of molecular machines." Read about his accomplishment.