Features:
Alumni Network Spans the Globe

Club News:
Regional Clubs
National Clubs
School News:
Communication
Dental
Education
McCormick
Medill
Travel Essay:
Italy's Land of Lakes
Close-ups:
When Warriors Come Home
Bosnian Writer Masters English as "Genius"

Communication
---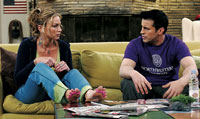 NBC Universal Photo: Mitch Haddad
Alumni from the School of Communication already know the strength of the alumni network in the entertainment industry, but thanks to the NBC sitcom Joey, a spinoff of Friends, the whole country is aware of the so-called "Northwestern Mafia." In an episode written by John Quaintance (C93), Joey, the main character, pretends to be a Northwestern alumnus in order to make connections and get acting jobs.
This spring real Northwestern alumni — and other guests — can attend The Elephant Man on the Ethel M. Barber Theater stage and Chekhov's masterpiece Three Sisters on the Josephine Louis Theater stage.
Click here for a full listing of events. Alumni can also post memories of their favorite professors. Check out My Favorite Professor.
---