About The Author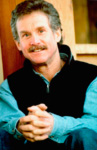 David Quammen is the author of four books of fiction and seven acclaimed nonfiction titles, including The Song of the Dodo, which was awarded the John Burroughs Medal for natural history writing. He has been honored with an Academy Award in Literature from the American Academy of Arts and Letters and is a three-time recipient of the National Magazine Award. Quammen currently holds the Wallace Stegner Chair of Western American Studies at Montana State University, in Bozeman. He is also a contributing writer for National Geographic.
From The Reluctant Mr. Darwin, W.W. Norton & Company, 2006
David Quammen's articles, "Was Darwin Wrong?" and "Darwin's First Clues" have been published in National Geographic and are currently featured on the magazine's website.