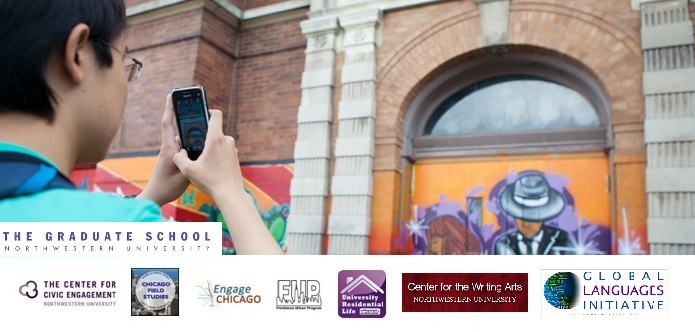 Sponsoring Departments
Each year, different departments across campus coordinate the One Book One Northwestern program to correspond with the issues covered the book. The 2012-­2013 selection, "Never a City so Real " is brought to you by:
Center for Civic Engagement
Northwestern University's Center for Civic Engagement (CCE) promotes a lifelong commitment to active citizenship and social responsibility among students. Through an integration of academics, meaningful volunteer service, research and community partnerships, the Center supports students, faculty, staff and alumni as they enhance their own academic experiences while contributing to stronger communities and a more engaged university.
Chicago Field Studies
For over 40 years, Chicago Field Studies (CFS) has helped students explore the broader community of Chicago and Evanston through one-quarter academic internship programs.
Now the largest academic internship program on campus, CFS serves over 250 students a year from all schools and majors. Students intern in a wide range of professional and civic fields, from nonprofit and community organizations to business and law. CFS continues to focus on the culture of work and to utilize internships as sites for original research. While interning, students take CFS courses on the Evanston campus that connect seminar readings and discussions with the internship's work, organizational culture and current issues.
Center for Writing Arts
The purpose of all CWA activities is to create, support and further undergraduate and graduate opportunities for the study of writing at Northwestern, both within CWA itself and across the university; to facilitate a continuing discussion in the university community about how best to foster and situate writing as a crucial part of a university education; to help coordinate the university's multifarious courses and programs in writing across departments, programs and schools; and also to welcome audiences from the metropolitan area to the rich array of public events on campus that are focused on writing.
The Center sponsors Visiting Writers in Residence who teach for one quarter.The Center also offers a two-quarter freshman seminar called "Modes of Writing," which is team-taught, and led by a distinguished faculty member of the Weinberg College of Arts and Sciences.
Engage Chicago
During 2012-2013, the Global Language Initiative will be launched.  The Global Languages Initiative is a Northwestern University campus-wide effort to promote the importance of multilingual and intercultural skills across all disciplines.
The mission of the Council on Language Instruction (CLI) is to enhance and streamline language instruction across departments and to encourage and support the professional development of language instructors.
 University Residential life
University Residential life (URL) is responsible for resident educational programs, advising hall governments, and developing residential communities that provide students the opportunity to lean social responsibility and interpersonal skills in a safe and comfortable environment. URL's full-time live in professional staff members and more than 100 community assistants are available to assist residents throughout the academic year.
Urban Studies
The Program in Urban Studies enables students majoring in anthropology, economics, history, political science, or sociology to master their disciplinary major and to complement it with a second major in urban studies. With special consent of the director of the program, students with other majors or from other colleges also may elect urban studies as a second major. The purpose of the program is to introduce students to an interdisciplinary perspective on the city and its problems, bringing together faculty and students who share common interests but have different academic backgrounds. In addition to the following requirements, it is recommended that students who major in urban studies complete a methods or statistics course in one of the social science departments, and students are encouraged to participate in the Chicago Field Studies program, and the Global Cities program.
The Graduate School
The mission of The Graduate School of Northwestern University is: to be a trusted, responsive, and visionary leader and partner in order to maintain and promote the highest quality master's and doctoral education.