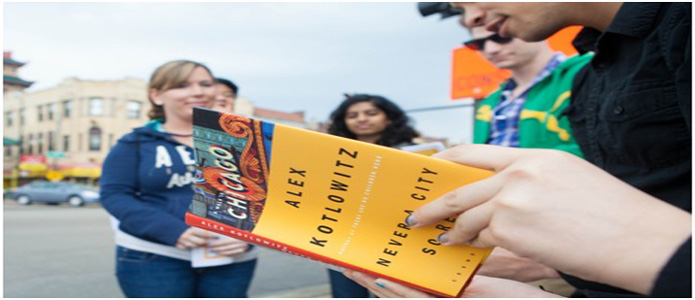 About the Book
"Never a City So Real" by Northwestern' s very own Alex Kotlowitz, the longtime writer-in-residence at the University's Center for the Writing Arts and a senior lecturer at Medill, has been chosen as the One Book One Northwestern selection for the 2012-13 academic year. 
Kotlowitz is a celebrated author, journalist and filmmaker who has been employing his compassionate brand of storytelling to chronicle the harsh realities of urban life for almost three decades.
"Never a City So Real" (Crown Journeys, 2004) takes a bit of a detour from Kotlowitz's usual narratives with a colorful, yet gritty tour of the people of Chicago who have been his guides into this city's -- and by inference, this country's -- heart. 
Kotlowitz is drawn to the people on the outside who are trying to clean up or at least make sense of the mess on the inside. They "look at their city from the vantage point of outsiders, and, as a result, they have perspective," Kotlowitz concludes. "They stand erect in their lives and see things that you might miss if you were standing in the center." Their stories, he says, are compelling, even heroic testaments to Chicago's messiness, heart and authenticity.
When Kotlowitz was approached by Crown Journeys to write a book about Chicago, he decided to get reacquainted with the city that he has grown to love since becoming an "accidental" Chicagoan almost 30 years ago. "Never a City So Real" gave him an excuse to hang out with people he already knew of and to get acquainted with others. 
In writing "Never a City So Real," Kotlowitz was struck by how all the beauty and fissures of the American landscape -- related to race, immigration, religion, class, politics, you name it -- are reflected within Chicago's boundaries.
In recent months Kotlowitz has been receiving wide acclaim for "The Interrupters," an award-winning documentary that he made with filmmaker Steve James. The recent winner of an Independent Spirit Award for top documentary, the film offers an intimate look at three members of Ceasefire, an organization that employs former gang members to combat violence. The film followed three violence interrupters in Chicago as they forged relationships in their communities and saved lives in a landscape marred by neglect and distress.
The project grew out of an article published in The New York Times Magazine in 2008. Kotlowitz's 1991 book, "There Are No Children Here," follows two brothers, Lafayette and Pharaoh Rivers, 11 and 9, respectively, capturing their love, sensitivity and intelligence as they repeatedly are tested by the crushing conditions of growing up in the projects. The book was selected as one of the 150 most important books of the 20th century by the New York Public Library. 
--Pat Vaughan Tremmel