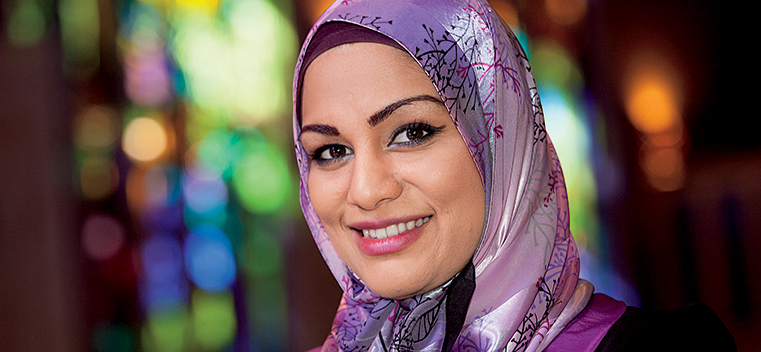 Tahera Ahmad. Photo by Michael Goss.
Millar's Rock Star
Story Tools
Share this story
Tell us what you think. E-mail comments or questions to the editors at letters@northwestern.edu.
Ever wonder about those strange designations we use throughout Northwestern to identify alumni of the various schools of the University? See the complete list.
Find Us on Social Media
In the past 18 months Tahera Ahmad attended a Ramadan dinner with Barack Obama (H06) at the White House, visited four cities in Afghanistan and worked with Secretary of State John Kerry on the State Department's Office of Faith-Based Community Initiatives.
"She's a rock star, what can I say," University Chaplain Timothy Stevens (G82, 90) says of Ahmad, an associate chaplain at Northwestern and one of the few female Muslim university chaplains in the United States.
Ahmad earned even more attention in late August when she became the first woman to recite the Quran at the Islamic Society of North America convention in Washington, D.C., the largest Muslim gathering in the country. Her recitation sparked outrage among some conservatives — women are barred from reciting the Quran in public, in part, Ahmad says, because of a fear that a woman's voice could fill men with lust.
Ahmad says she accepted the invitation to read from the Muslim scripture not out of ego or self-promotion but rather to meet a sense of spiritual responsibility on an issue of social justice.
"I believe that women's issues, women's leadership concerns and the role of Muslim women in the public space is something to be explored in an honest, open and intellectual manner," Ahmad says. "I want to start asking those questions in a respectful way."
Ahmad, who grew up in Morton Grove, Ill., taught at the Islamic Foundation School in Villa Park, Ill., after serving as the Muslim chaplain at Mount Holyoke College in Massachusetts. She came to Northwestern in 2010.
In addition to her role as adviser to the Muslim-cultural Student Association, Ahmad works with non-Muslim and Muslim students in her pastoral counseling. There are 650 to 700 Muslim students, faculty and staff on the Chicago and Evanston campuses.
"With an increasing number of Muslim students on campus, we felt it was important to have a chaplain for them," says President Morton Schapiro. "Tahera has not only been a key person for those students, but also for many other non-Muslim students as well. She has been a wonderful addition to our faith community and the entire University community."— S.H.