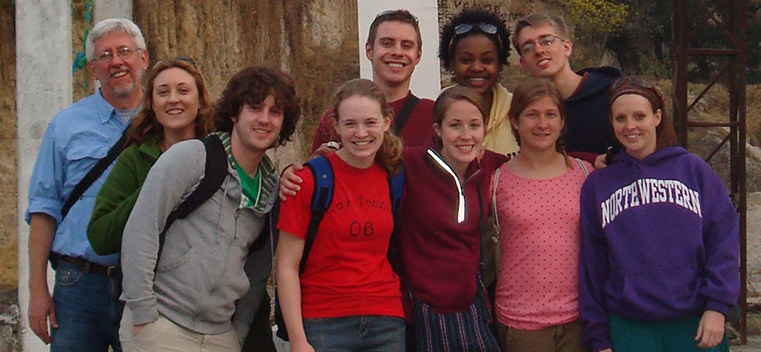 University Chaplain Timothy Stevens, far left, and students on the Friendship Mission to the community of San Lucas Tolimán in Guatemala in 2005.
A Friendly Mission
Story Tools
Share this story
Tell us what you think. E-mail comments or questions to the editors at letters@northwestern.edu.
Ever wonder about those strange designations we use throughout Northwestern to identify alumni of the various schools of the University? See the complete list.
Find Us on Social Media
Friendship Missions focus on relationships — rather than service — in international communities.
Before Jon Marino arrived at Northwestern in fall 2002, he had never traveled outside the United States. But an opportunity to engage with citizens in a San Salvador slum piqued the freshman's interest.
The Rockford, Ill., native traveled on a spring break Friendship Mission with a group from Northwestern's Alice Millar Chapel and Religious Center and University Christian Ministry to Colonia 22 de Abril, a community of tens of thousands that developed in the 1970s on a garbage dump on the outskirts of El Salvador's capital.
"It was spring 2003," Marino (SESP06) says. "The war in Iraq had just begun. For me, leaving the country for the first time, my whole world just exploded."
In El Salvador, Marino saw surprising signs of globalization — American brands such as John Deere and Coca-Cola — all around him. He talked with a young girl at a day-care center — the daughter of survivors of the country's violent civil war — who asked if he could feel the impact of the planes or the buildings' collapse on Sept. 11. And he vividly recalls walking the streets of San Salvador on the anniversary of the assassination of Archbishop Óscar Romero.
"It was very volatile, and there was some anti-American sentiment," Marino recalls. "Being there goes down as one of the formative learning experiences of my time at Northwestern because I saw the world in all its reality and all its complexity. People were marching for justice, and they wanted their lot in life to improve, but they were also frustrated with these issues of global power that I had never really thought about before.
"That trip really set the course for my college experience and what I've been doing since," says Marino, who went on two other Friendship Missions to Guatemala and later co-founded the Northwestern-based Global Engagement Summit. "I can't say that I came to college and had this dream of experiencing the world, but Tim Stevens' trip kind of forced me into it, which I'll be forever grateful for."
Stevens (G82, 90), the University chaplain and head of the Alice Millar Chapel and Religious Center, launched the annual spring break Friendship Mission with "the idea that we were going to a place not to evangelize but to establish relationships with people in a different part of the world in a different social reality," Stevens says. "If a conversion takes place, we're the ones who get converted."
Stevens, who started the Friendship Missions with former UCM director Jack Bremer in 1992, has traveled to El Salvador 12 times and will lead the mission there again next spring. Stevens has also taken Northwestern students on Friendship Missions to Russia, Cuba and Haiti.
Marino says that in the early 2000s, "the Friendship Missions were really the only trip offering on campus for students to do some sort of immersion and community engagement abroad. Tim was certainly way ahead of the game on offering students that kind of opportunity."
Those opportunities have helped shape the lives of other enterprising undergrads. For one student, Shom Dasgupta (FSM05, 10), it opened his eyes to an often-neglected area of global health.
"I remember we were sitting in the reflection group one night in Guatemala, and Shom said, 'You know, this is what I want to do,'" Stevens recalls. "And I said, 'Excuse me, what do you mean this is what I want to do?' And he said, 'I want to come to a place like this and practice medicine."
Dasgupta — who went on Friendship Missions to El Salvador and Guatemala and met his wife, Elena Despina Dasgupta-Tsinikas (SESP06), on one of the trips — later lived in Chile for a year and then went on to study medical anthropology at Harvard University. In 2006 he and three colleagues launched Wuqu' Kawoq, a nonprofit that focuses on health care, language revitalization, clean water and the treatment of malnutrition in Guatemala.
"If he has a long weekend or a couple weeks off, Shom gets on a plane and goes to Guatemala," Stevens says. "They have a clinic there, and he sees patients."
Dasgupta-Tsinikas told Stevens, "Guatemala is Shom's mistress, and I'm OK with that."
"Shom would be amazing no matter what," Stevens adds, "but he was on this Friendship Mission trip, and it really opened a door for him." — S.H.