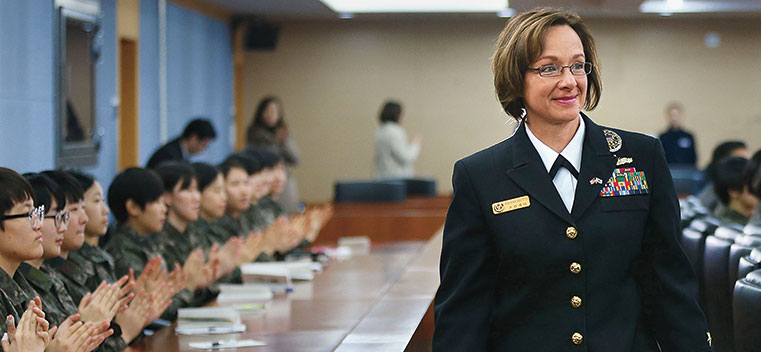 Rear Admiral Lisa Franchetti prepares to deliver a speech on leadership and life balance to the Reserve Officers' Training Corps cadets at Sookmyung Women's University in central Seoul. Photo by Yonhap.
U.S. Navy-ROK Star
Story Tools
Share this story
Terry Stephan '78 MS is a freelance writer in Chicago.
Tell us what you think. E-mail comments or questions to the editors at letters@northwestern.edu.
Ever wonder about those strange designations we use throughout Northwestern to identify alumni of the various schools of the University? See the complete list.
Find Us on Social Media
Rear Admiral Lisa Franchetti keeps U.S. Naval Forces Korea at the ready while working closely with the Republic of Korea Navy to strengthen security in the region.
On Aug. 14, 2014, the North Korean military fired three short-range missiles into the waters to the east of the Korean Peninsula less than an hour before Pope Francis was scheduled to land in Seoul, South Korea, for the start of his first papal trip to Asia. Shortly after his arrival, two more missiles were fired. Some observers said it was typical of the North wanting attention when something big was happening in the South. Others said it was a protest in advance of war game exercises between the U.S. Navy and the Republic of Korea (ROK) Navy scheduled for the following week.
Whatever the motive, the provocation was an example of the tensions and dangers that exist between the two nations that share a peninsula divided at the 38th parallel by the terms of the 1953 Korean Armistice Agreement. The signing of that document ended hostilities after the three-year Korean War, though technically the two sides are still in a state of war because no "final peaceful settlement" has yet been reached.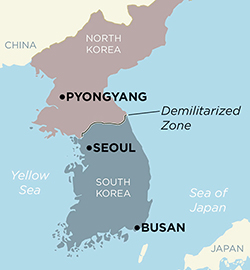 The bilateral exercise that followed the missile firings was one of approximately 20 each year carried out by the U.S. 7th Fleet and the ROK Navy that are designed to enhance the maritime security around the peninsula and promote readiness and deterrence.
Last August U.S. Navy Rear Adm. Lisa Franchetti and her staff at U.S. Naval Forces Korea helped plan and coordinate the naval portions of the Ulchi Freedom Guardian exercise that involved more than 30,000 U.S. and Korean service members.
A Medill School of Journalism, Media, Integrated Marketing Communications and Naval Reserve Officers' Training Corps graduate, Franchetti '85 is the first woman to serve as commander of U.S. Naval Forces Korea and one of fewer than 40 female admirals in the U.S. Navy. An expert military tactician and strategist who has commanded a guided-missile destroyer and served as a commodore of a destroyer squadron, she is the U.S. Navy's representative in the Republic of Korea whose main job is to strengthen collective security efforts in the region.
"Our number one mission here is to be ready to meet any challenges in defending the Korean Peninsula," explains Franchetti during an October interview at her office at U.S. Army Garrison Yongsan in Seoul. "The U.S. and ROK alliance is prepared to fight tonight should deterrence fail."
She leads a team of naval personnel and civilians who work to promote the strong alliance between the United States and the Republic of Korea and the two nations' navies, and to enhance the partnership in the defense of the country. Franchetti emphasizes that Korea and the United States are full partners. "Katchi kapshida — we go together," she says, using the Korean phrase.
"We don't know what's going to happen today, we don't know what's going to happen tomorrow," she says, "but our job on the peninsula is to be ready."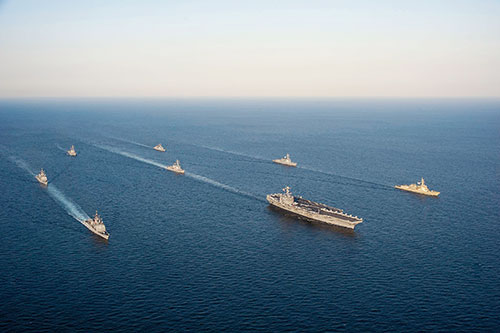 The George Washington Strike Group and Republic of Korea Navy ships participate in tactical maneuver training in international waters near the Korean Peninsula. Photo by Mass Communication Spc. 3rd Class Ricardo R. Guzman. Map above by Michael Newhouse.
North Korea has the fourth-largest army in the world, with more than 1 million troops. More than 70 percent of its ground forces are deployed near the Demilitarized Zone — just 35 miles north of Seoul — that separates the two countries. The country is led by a young, inexperienced, secretive and often unpredictable dictator, Kim Jong-un, who aspires to make his country one of the world's nuclear powers.
Given the volatility of North Korea's leader and the country's confrontational actions against South Korea and the United States through missile launches, recent cyberattacks and nuclear warhead development, the alliance between the Republic of Korea and the United States has never been more critical.
Commander, U.S. Naval Forces Korea
Franchetti operates out of a modest office in a nondescript two-story building in central Seoul on the grounds of the 620-acre U.S. Army Garrison Yongsan, which is also home to the Combined Forces Command, United Nations Command and U.S. Forces Korea. During a recent visit to the rear admiral's offices, there was a quiet energy in the office building, and the staff appeared to reflect Franchetti's leadership. They know their jobs, they understand the mission, they respect their ROK counterparts, and they clearly enjoy what they are doing.
"Admiral Franchetti is a no-nonsense person," says aide Lt. Michelle Czarniak. "She cuts to the chase." Others describe Franchetti as intelligent, fair, calm, focused, collected, methodical and clear minded — and a person who is the same when the admiral cap comes off.
Franchetti has all of the self-confidence, ambition and intellect one would expect of a person who has achieved so much, say her staff, but none of the standoffish behavior sometimes seen in people at the top of their profession.
"She is incredibly comfortable with who she is," says Lt. Jennifer Grijalva, a protocol officer. "She's enthusiastic, very positive and passionate. She wants to share her passion. And she has an unbelievable attention to detail."
There's a handout available at the office that displays the rear admiral's command philosophy. It reminds her staff that integrity matters, people matter, teamwork matters and attitude makes a difference.
"A lot of trust is placed in all the people who are selected to work here because we have some very important tasks," says Franchetti.
Franchetti's ROK Navy counterpart, Vice Admiral Jung Ho-Sub, says that she has "made a substantial contribution to the ROK Navy's combat capabilities. She demonstrates expert knowledge in military tactics, operations and strategy.
"However, Franchetti's most important strength comes from her leadership, which is both delicate and caring," he continues. "This unique leadership style is the force that binds ROK and U.S. sailors together as one team, and she directs this team on the right path to become a strong combat power."

"She is a seasoned naval officer," says Capt. Phil Yu, naval attaché at the U.S. Embassy in Seoul. "She has commanded warships at every level. That is why she's here. The threat in Korea is as real as it gets."
Franchetti has served in South Korea since September 2013, when she became commander of U.S. Naval Forces Korea. She commands approximately 435 Navy officers, sailors and civilians in Seoul and three other cities. She lives on the Yongsan base with her husband and their 8-year-old daughter.
Shortly after taking command in Korea, Franchetti outlined a command vision statement that focuses on increasing readiness and interoperability so that the U.S. and ROK navies can work together efficiently when it really matters.
With that document, "we have our commander's vision and intent," says U.S. Navy Cmdr. George Dolan. "This is really my charter for what she wants us to focus on. This is a hot spot; there are a lot of things that could go wrong here. We have to focus on our warfare capabilities and being able to work with our ROK counterparts to support the defense of South Korea if required."
In addition to keeping U.S. Naval Forces Korea ready for any contingency, Franchetti notes, "my other mission is to take care of all the U.S. Navy sailors who are here — this is a key responsibility for me."
Her care for the sailors and their families, her emphasis on the importance of work-life balance and her ongoing efforts to encourage and help promote people under her are apparent to any visitor to Franchetti's command. "Families are the glue that holds the Navy together — don't let it dry up," she advises the sailors and officers who serve with her.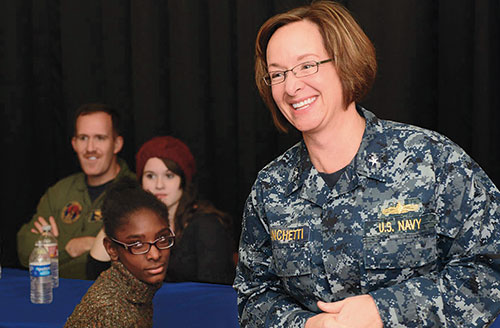 "I talk a lot about balance," she explains. "I have my work sphere, my mom and wife sphere and my mental and physical health sphere. When I was younger I thought, 'I can do all of this at the same time!'
"But when I became older, I realized 'OK, this week I'm going to focus on work because it's going to be really busy. And next week I'm going to take a day off and go to the zoo with my family. And then next week I'm going to make sure my running is going well and get that back on track.' A lot of rethinking and reevaluating your priorities is really important. Every day you have to think about this."
From Journalism to the NROTC
Franchetti grew up in suburban Rochester, N.Y. Her father was a manager at the local DuPont plant, and he used to take her to work with him when she was young.
"We'd walk around, and I got to watch my dad and learn from him as a manager and leader and how he took care of his people," she recalls. "I always tried to be the same way that he was as a leader."                                
No one in her family or among their friends was involved in the military, Franchetti adds, and the idea of a career in the Navy was not on her radar. She wanted to be a journalist, in the Middle East specifically.
But a chance encounter during freshman orientation week in 1981 upended those plans.
"I was on my way from Patten Gym and saw a bunch of NROTC students having a cookout and playing football, and I stopped by to talk to them," she says. "They said, 'We could get you $100 a month, and maybe you could get a scholarship next year if you joined ROTC.'
"I was whisked away into their office building on Haven Street, talked to a lieutenant who told me how great the Navy was and, next thing, I'm signed up and getting my uniform and some books. And that's how it started."
After graduation she spent two years at Naval Station Great Lakes north of Chicago and then got her wish to go to Surface Warfare Officers School in Newport, R.I., and then to her first ship, the USS Shenandoah, a destroyer tender, where she was the auxiliaries officer. The 5-foot-2 former journalism major was in her early 20s when she received her initial assignment: to lead 67 men, including three chief petty officers, and one other woman in the Shenandoah's auxiliary engineering division.
"We had a great Mediterranean deployment, and we had the best operational effectiveness of our equipment that they had seen in a long time," Franchetti says. "And our chief engineer wasn't a big fan of women being on ships or being in his department. But I believe the performance of the division and what we were able to do as a team changed his mind about women serving on ships."  
Though women were not permitted to serve on any combatant ships until 1993, Franchetti says that the early part of that deployment was the only time in her naval career she felt she was seen differently as a female officer. And it still ended well.
"After that I was extremely well received and never had any problems, or I was completely oblivious to them," she says with a laugh. "I'm not sure which it was, but either way, it really seemed to work out!"
A series of assignments, on shore and at sea, added experience, responsibilities and promotions. She served tours at the Pentagon, was a commodore in command of six ships and in command of Pacific –
Partnership, a Navy mission aboard the hospital ship USNS Mercy that provides civic assistance and disaster relief training to people throughout the Asia-Pacific region in conjunction with other nations and nongovernmental organizations in the area.
"The relief program grew out of the U.S. government's response to the tsunami in 2004 in Indonesia, when the U.S. Navy sent Mercy there," says Franchetti. "One of the things we learned then was that we developed a lot of really good relationships with the people on the ground while we were providing assistance.
"So the thought was we should probably do this in more countries because this part of the world is disaster central — we have tsunamis, typhoons; every year something happens. And the more we can get our sailors exposed to these different countries and the medical planners and disaster response planners, the better. It fits our motto of 'Prepare in calm to respond in crisis.' "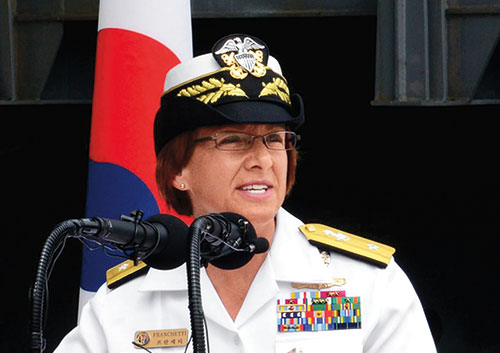 Today Franchetti and her staff are responsible for helping the U.S. 7th Fleet plan approximately 20 naval exercises carried out each year with forward-deployed U.S. ships, most of them based in nearby Japan, and the ROK Navy. These can include maritime security patrols, mine sweeping and removal, search-and-rescue operations, antisubmarine warfare training, amphibious warfare training with U.S. and ROK Marines, and carrier strike group operations. Personnel and ships from the 7th Fleet would be moved to the waters around the peninsula if there were hostilities from North Korea that require a naval response.
In addition to the exercises, there are more than 40 annual U.S. Navy ship visits to ports around the country that involve engagements with the ROK Navy and community service projects and visits to local sites.
Recently retired as assistant director of operations, Lt. Cmdr. Jesse Flores worked closely with Franchetti in Seoul.
"She is as good as any leader here," he says. "Her diplomacy, her ability to align policy to operations is breathtaking. She got here and carried on the beat, without missing a step. It's great to have her as a conductor out here."
Navy Cmdr. George Dolan says the North Koreans have the wherewithal to threaten the region and beyond. "They have tested nuclear weapons, and on the other hand, they have done a lot of missile tests — missiles that are capable of traveling a great distance like a bullet. So if you marry the nuclear capability with the missile capability, that's dangerous, not just for Koreans but for our friends in Japan and for people in Guam, Hawaii, even in the continental United States."
While North Korea has suffered for decades under a ruthless totalitarian regime, South Korea has grown into a prosperous democracy. It was a devastated country after the Korean War, but the nation was able to rebuild in a calm and stable environment. Today, South Korea has the world's 13th-largest economy, with a gross domestic product of $1.450 trillion. It is one of the world's most educated nations, and its Internet connectivity ranks it as the sixth–most-wired nation. Bilateral trade with the United States totaled $130 billion in 2012. Home to more than 25 million people, Seoul is the second–most-populated metropolitan area in the world. Busan is the fifth-largest shipping port in the world.
"All of that has happened in the last 60-plus years, and that's underpinned by the strong U.S.-ROK alliance," says Maj. Gen. Mark Dillon of the United Nations Command and United States Forces Korea.
With her assignment in Korea set to end in September, Franchetti is thinking about what the future holds. She says because of her rank, she serves at the pleasure of the president of the United States and the chief of naval operations, who will determine her next assignment when her current one ends. But she is clear on where she would like to go.
"I would really like to command a carrier strike group or an expeditionary strike group. That would be the next level of command," she says. "And I think that would be an awesome job. So you would command a great team that is responsible for the aircraft carrier or amphibious assault ship, the embarked air wing and the squadron and ships that go with the strike group. It would be an incredible responsibility.
"One thing that is always hard to explain to people who run civilian businesses is this — when you're in command, it's 100 percent accountability and responsibility.
"You are THE person responsible," she says. "You're responsible for training every single person who works for you. You're responsible for everything they do. It's inescapable. That is a big burden in some ways. But it's a burden that we want. You aspire to have that burden."
Although she never became a journalist, Franchetti says that her Medill education was great preparation for her Navy career.
"The Medill program gave me a very inquisitive mind," recalls Franchetti. "We were taught how to ask questions and then how to ask more questions and dig a little deeper. I think that skill has really helped me in the Navy. It would have helped in any career, but I think it's really helped me in the Navy.
"I actually love what I do," she adds. "I feel the same way today as the day I went to my first ship. I love the mission. I love being able to serve my country. I love being able to take care of sailors and help them reach their full potential. And I love making a difference in the world.
"I used to have 'Idealist' on my license plate before I moved here. I really believe that each of us can make a difference. And I feel like this is the way for me to do it."