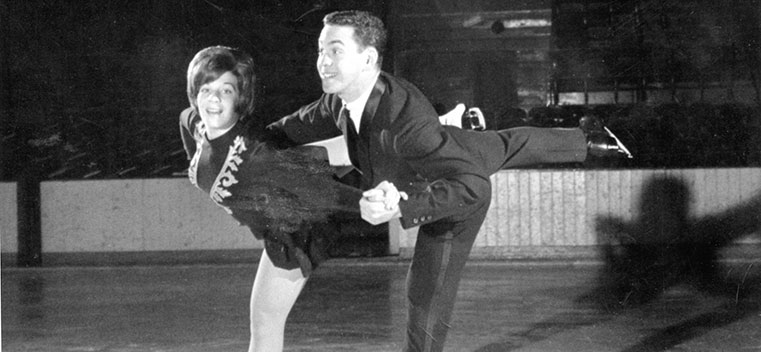 The children of German immigrants, Ron and Vivian Joseph grew up in Highland Park, Ill., and started skating at a young age. Ron attended Northwestern on a track scholarship and placed third in the long jump at the 1964 Big Ten Championships. Throughout the school year the Josephs would drive to Rockford, Ill., to train at an ice rink and return to campus the same day so Ron could study. "I made all my labs," he says. "My grades were always better when I was competing." Photo courtesy of U.S. Figure Skating.
Then: Medal Count Mystery
Story Tools
Share this story
Tell us what you think. E-mail comments or questions to the editors at letters@northwestern.edu.
Ever wonder about those strange designations we use throughout Northwestern to identify alumni of the various schools of the University? See the complete list.
Find Us on Social Media
It was an Olympic medal caper 50 years in the making.
Olympic pairs figure skaters Ron Joseph '67, '70 MD, and his sister, Vivian, finished fourth at the 1964 Winter Games in Innsbruck, Austria. But when it was revealed that the second-place West German team had signed a professional contract during the competition, they were disqualified from medal contention. So the third-place Canadian team moved up to silver, and in 1967 the Josephs received the bronze medal at a small ceremony in a Chicago hotel. 
But in 1987 the International Olympic Committee discreetly reinstated the West Germans as the silver-medal team. However, the committee failed to inform the Canadian or U.S. Olympic representatives. Nor did the IOC ask either team to return their medals.
The Josephs had the Olympic bronze medals in hand, but various skating records listed conflicting results: Some showed the U.S. team as the bronze medalists; others listed the Americans fourth.
Thanks to the reporting of sports journalist Amy Rosewater '93, '94 MS, which culminated in a December 2013 New York Times story, the IOC corrected its records to show the Josephs as the bronze medalists — a feat equivalent to "moving mountains," Rosewater says. In January Ron and Vivian were honored at the U.S. Figure Skating Championships in Greensboro, N.C.
"Life keeps going on," says Ron, an orthopedic hand surgeon who lives near Jacksonville, Fla. "And you don't focus on things [in the past], but when Amy called about getting the record straight, that was terrific.
"The journalism school should be extremely proud of Amy. She was diligent, persevered and did not take 'no' for an answer. She stuck to and checked her facts. In my opinion, that's great journalism."