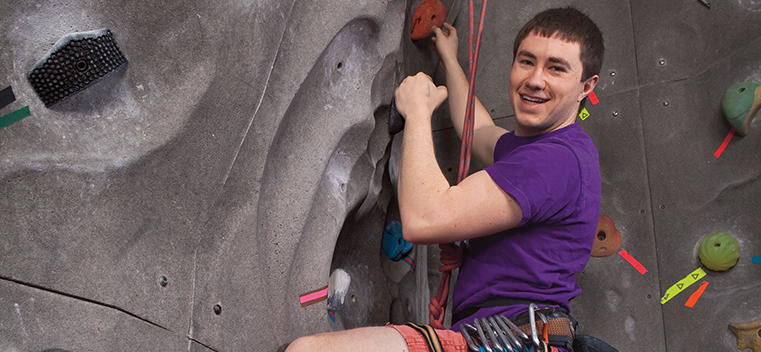 Photo by Mary Henebry
Tristan Sokol
Story Tools
Share this story
Tell us what you think. E-mail comments or questions to the editors at letters@northwestern.edu.
Ever wonder about those strange designations we use throughout Northwestern to identify alumni of the various schools of the University? See the complete list.
Hometown: Huntsville, Ark.
Majors: Mechanical engineering and manufacturing and design engineering
Big picture: Tristan Sokol grew up in a small rural town in northwest Arkansas where his family runs an organic vegetable farm. As a studio lead for Design for America, a student-led, Northwestern-based national initiative to use design to have a local and social impact, Sokol helped create Bottleshare,  an innovation to cut back on the use of plastic water bottles; it was a semifinalist in the Dell Social Innovation Challenge. He has competed every year in the Undergraduate Design Competition, developing an autonomous robot for the annual event. A self-taught web developer, Sokol created the websites for various student groups and events, including for Wrestlepocalypse — the annual Dillo Day–weekend comedy event in which he performed this year. He also does improv with the revived No Fun Mud Piranhas and is a climbing instructor at the Evanston Athletic Club. After graduation Sokol will enter the Pearson Leadership Development Program, a 24-month rotational program designed to develop leaders for the London-based education company.
On Design for America: "Freshman year I joined everything I could, but Design for America really stood out. The student leaders were inspirational. It seemed like a group where I could get a good hands-on education outside of classes, expand my personal development and learn leadership skills. I also knew I wanted to do human-centered social-impact design work.
"Human-centered design is perhaps one of the most core principles of Design for America. It differs from some of the more traditional design processes by putting a large emphasis on users. Insights from user research allow you to design based on their actual needs rather than assumed and untested ideas."
On working with Pearson next year: "I'll be helping the company come up with ideas to go more digital, creating digital learning tools. I could have gone the entrepreneurial route, but I also wanted to work in the social sector.
"I come from a small town in Arkansas where the education is not the greatest. I was one of two kids from my town to go to a prestigious university outside the state. I believe that education is the only social issue. It's the only way to solve every other problem."
On improv: "I think that improv is one of the highest forms of intelligence. The ability to think on your feet and draw conclusions in a second, that's really impressive. It's enjoyable and exciting for me, and I think it's applicable and useful for every field. You learn how to be comfortable in any situation."
On climbing: "I started climbing when I worked for a local Boy Scout camp in Arkansas the summer before senior year of high school. I taught others how to climb. Climbing is based on trust and community, almost as much as it is on your personal skill. It is a great way to interact with nature, and of course it's a great adrenaline-pumping workout. Teaching people how to climb is great, too, because it gives others a safe introduction to an enjoyable and healthy activity, and it's cool to be the one to introduce them."