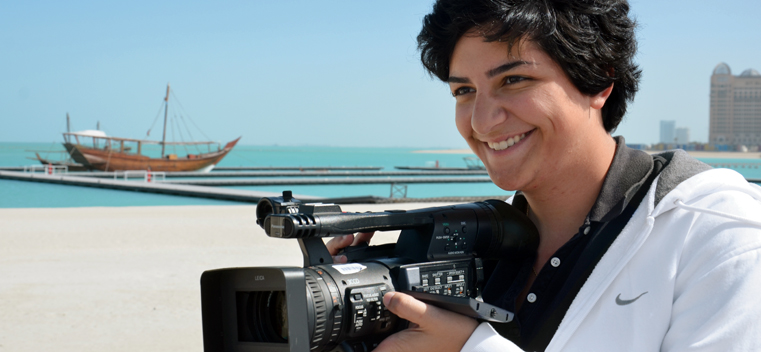 Photo by Reine Atrach.
Dana Atrach
Story Tools
Share this story
Tell us what you think. E-mail comments or questions to the editors at letters@northwestern.edu.
Ever wonder about those strange designations we use throughout Northwestern to identify alumni of the various schools of the University? See the complete list.
Hometown: Doha, Qatar
Major: Communication
Big picture: Dana Atrach helped establish the Lady Wildcats basketball team at Northwestern's Qatar campus, and as co-captain this season she led the team to a championship in the women's college basketball tournament in Doha. The aspiring screenwriter served as president of the NU-Q student government, and she wrote and completed the first large-crew student film on the campus. "Student affairs hosts the Rockstar Awards, recognizing people who build community, embody NU-Q and show school spirit," says Qatar campus community relations manager and Lady Wildcats basketball coach Emily Wilson. "Dana wins in almost every category."
On growing up around the world: "My parents are Palestinian, but I was born in Michigan and have lived in the United Arab Emirates, Canada and Qatar. Growing up in three different places has given me the chance to experience different cultures. Because of that I feel a lot more comfortable being myself. I don't have to try to hide my roots or try to fit into social expectations that people have of me.
"It's also made me realize how important my roots are and that in my films I should bring attention to issues that are happening within my culture, whether they're political, familial or social issues. Those issues usually deal with challenging or breaking social expectations. Something as simple as an unconventional haircut can set off a thousand negative assumptions, so I'd like to portray the struggles people face when trying to break these socially imposed norms."
On the Lady Wildcats: "Basketball has been a passion of mine ever since I was a kid. Being on the Lady Wildcats has been extremely rewarding because I was given the chance to meet some of the most amazing people while doing something I love. The most important thing we learned was not how to play basketball but to understand what being a team actually meant. That's what led us to victory this year."