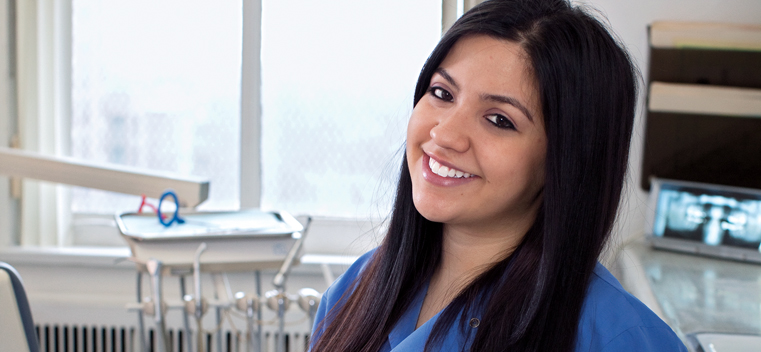 Photo by Mary Henebry
Alma Gallegos
Story Tools
Share this story
Tell us what you think. E-mail comments or questions to the editors at letters@northwestern.edu.
Ever wonder about those strange designations we use throughout Northwestern to identify alumni of the various schools of the University? See the complete list.
Hometown: Cicero, Ill.
Major: Human communication sciences, with a minor in Spanish
Big Picture:The daughter of a Mexican immigrant single mother, Alma Gallegos grew up in Cicero, Ill., and came to Northwestern for the EXCEL program, a precollege engineering program for minority students. Through that program she got involved with the Society of Hispanic Professional Engineers as a Northwestern student and eventually started a junior chapter at Evanston Township High School. Gallegos, who changed her major to human communication sciences, served on the Northwestern University Pre-Dental Society board for two years and spent a summer in New York at the Summer Medical and Dental Education Program. She hopes to join the Army Dental Corps and open her own clinic on the South Side of Chicago.
On being a dentist: "I had a lot of dental work done when I was younger, and a lot of those services were done pro bono because my dentist knew we couldn't pay much. My mom had dentures at 25 because in Mexico no one cares enough to give the children dental care. My first goal when I'm a dentist is to provide care to children who don't have it. That will make my mother smile.
"I'd like to eventually work in Little Village in Chicago, which is like Little Mexico, because there's inadequate dental care there."
On her mother: "My mom is my role model. She went through so many hardships, but she raised four amazing children, and look where I am now. She got amnesty during the Reagan administration, and when she became a citizen, it was the proudest moment of my life."
On culture: "When I arrived at Northwestern, it was such a culture shock. I had always been surrounded only by the Mexican culture and hadn't realized it. But I want to make people aware that other cultures exist and to help celebrate each culture. I think it's my duty, being a minority, to help other people learn about my culture and, in turn, learn about theirs."