Feedback
Story Tools
Share this story
We'd Like to Hear from You
Northwestern welcomes signed letters of 250 words or less from readers. We reserve the right to edit all letters. Please send correspondence to the
Editor
Northwestern
1800 Sheridan Road
Evanston, IL 60208-1800
Fax: 847-491-3040
E-mail: letters@northwestern.edu
Correction: We listed the incorrect dates for Reunion 2012 in the Class Notes section of Alumni Life in the winter 2011 issue. Reunion Weekend 2012 is Oct. 26–28.
Find Us on Social Media
More support for solar energy research, cheers for Dr. Dan
Power of the Sun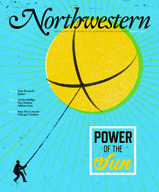 I was very happy to see your recent cover story on solar energy ["Something New Under the Sun," winter 2011]. In the article, researcher Michael Pellin claims that it's hard to imagine you can ever get back the investment in energy that is used in the production of silicon solar cells.
I disagree. This is a common misconception among many opponents of renewables, and it needs to be corrected.
I work in the solar industry and have my own project development company in Germany. According to the German solar energy association (Deutsche Gesellschaft für Sonnenenergie), it takes a solar power plant less than two years to produce all the energy that is needed to build the power plant itself, including solar cells, modules, inverters and aluminum or steel mounting systems, etc.
I know your article is far from opposing renewables and specifically solar, and therefore it's even more important to clarify this point.
Beginning next year German solar power companies will receive a feed-in tariff of less than 15 euro cents per kilowatt hour that will be used to build solar power plants. I think Germany has shown that with a good legal foundation, renewables are able to compete. We sponsored nuclear power for more than 50 years and the renewables now for only 10 years. In 2011 Germany's power generation from renewables was 20 percent, compared with 18 percent from nuclear.
Thomas Hager
Mühldorf am Inn, Germany
Cocky Dan Turned Out Great
I have read many glowing stories about orthopedic surgeon Dan Ivankovich, but Barbara Mahany's piece "Bigger Than Life" [winter 2011] is by far the best written and brings back the Danny I knew when he was a student at Glenbrook South High School in Glenview, Ill.
He was one of my kids' friends, and I saw him almost every day of his senior year. He was cocky, undaunted about going to the blues clubs in Chicago alone at age 17 when I expressed some anxiety about his safety. He said his size and a bit of extra protection he carried was all he needed. As Mahany wrote, his plans were set in stone. He was most excited about the possibility of playing basketball in the Olympics.
After he injured his knee in the accident, he came to our house many afternoons, settled himself in a recliner with his leg stretched straight out (I had to be careful in walking around it not to bump into it). The cockiness had disappeared. He talked about feeling guilty about Northwestern's basketball scholarship since he couldn't play anymore. He talked about somehow combining medical and music studies. He continued with his life and became an extraordinary and selfless human being.
I'm glad I knew him as a kid with big plans.
I'm still "Mrs. C" to him. Dan used to come out with many hilarious statements. One I remember the best was uttered when he came over and saw the fence my husband was constructing around our side yard. He said, "Mr. C, I see you're building a fence to keep your women corralled." That was 17-year-old Danny!
Margie Cuthbertson
Lake Barrington, Ill.
Dolphin Show Splash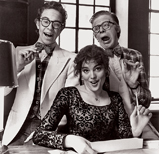 Here's a correction on the 1982 Dolphin Show photo caption [photo at left] for Little Me. The student on the left is not Scott Browning (WCAS84) but Richard Samson (C83), who played Benny. Scott Browning was in that show but did not appear in that photo.
Judy Kaplan (C83)
Pittsburgh
Imagine my surprise, delight and bittersweet feelings when I looked at the photo from the '82 Dolphin Show [Then: "A Big Splash," winter 2011, page 2] and saw the beautiful and ever-so-talented Michelle Nicastro. Michelle passed away in November 2010 at age 50 from breast cancer, but she will be remembered through the newly created Michelle Nicastro Stark (C82) Memorial Fund, which will provide scholarship support annually to a Northwestern music theater student. Her friends and family wanted her spirit, generosity, talent and joy to live on at Northwestern.
Nili Yelin Wronski (C80)
Wilmette, Ill.
I noted a big splash for the Dolphin Show in the winter issue. But it was never as big as Waa-Mu.
As a past co-chair of Waa-Mu Here We Go Again with the late Max Myover (BSM46, GBSM48), I wonder when the show will be staged again.
Recently I was at a Northwestern alumni luncheon in Naples, Fla., and met President Schapiro. When I asked him about Waa-Mu, he assured me that the show has not been eliminated from Northwestern's activities.
I'd surely like to hear from you regarding the status of Waa-Mu. Joe Miller (J29), the longtime Waa-Mu director, remains in my memories of the show.
Doris Helm Pilliod (WCAS46)
Bonita Springs, Fla.
Editor's Note: President Schapiro is right. The Waa-Mu Show remains a beloved annual spring tradition. This year's show, Off the Map, will be staged at Cahn Auditorium April 27–May 6. Waa-Mu is an original musical revue that is written, performed and presented by Northwestern students.
Campus Life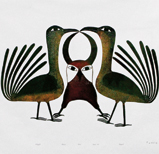 The "Arctic Art" item on page 10 of the winter 2011 issue [Campus Life, Collections] misidentifies the Inuit artist responsible for the accompanying print.
Kenojuak Pudlat, the artist credited, is a sculptor.
Kenojuak Ashevak is the artist responsible for Birds, the name of this print. She is one of Canada's most acclaimed artists, especially beloved for her stylized owls.
At 84, she is the matriarch of the renowned Cape Dorset print cooperative, a companion of the Order of Canada, holder of an honorary doctorate from several universities, recipient of the GovernorGeneral's Award for Visual Arts and on Canada's Walk of Fame, among other honors.
Her easily recognizable images — and even her signature in the lower-right corner of the print — are familiar in Canada, where her work has appeared on coins, postage stamps and public murals.
Joan Walters (GJ75)
Burlington, Ontario
Having worked several times in the great state of Alaska, I enjoyed the short article "On Thin Ice" [Campus Life, Specimen, winter 2011]. Professor Seth Stein correctly states that "climate change is not a recent phenomenon — it has gone on throughout Earth's history." He continues by saying that the climate has been warming since the peak of the last Ice Age. Incredibly, Stein then opines that "the natural warming has recently been accelerated by human activities."
Really? What tests has Stein run to come to this conclusion? If he indeed has run the correct tests, where are they published? I am afraid that Professor Stein has inserted political correctness into an equation that does not contain the evidence.
Kevin Stanforth (PT78)
Madera, Calif.
I read with interest the article "A Family Fight Against ALS" [Campus Life, Lab Notes] in the winter 2011 issue. My brother, Dennis E. Halloran, who was the assistant director of security at Northwestern's Chicago campus from approximately 1978 to 1980, was diagnosed with ALS in or around 2005. I believe he had the same strain as Mr. Timothy Spann, bulbar onset sporadic ALS.
Thank you for the update on ALS research at Northwestern.
Bradley Halloran (SCS83)
River Forest, Ill.
The Lab Notes section in the winter issue has a news item titled "No More Nut Allergies" [Campus Life]. The article goes on to describe research that may prevent life-threatening reactions to peanuts.
Peanuts are not nuts; they are legumes, related to soy and peas. (Remember the Civil War–era song "Goober Peas"?) While a certain percentage of peanut-allergic patients also have nut allergies, and vice versa, these are two distinct entities.
This is not a minor semantic issue. It is very important that allergy patients understand the distinction.
Belief that nut-allergic patients cannot eat peanuts can lead to unnecessary dietary restrictions; in pediatric patients, in particular, such restrictions are to be avoided whenever possible. Allergy testing for both types of allergies is usually necessary to determine which can be safely consumed.
David H. Austein (FSM72, 74)
Gaithersburg, Md.
Great winter 2011 issue!  I am proud of the work being done by the students and alumni highlighted in the "Our World" section ["A Commitment to Global Communities"], especially their concern for the practical and their sensitivity to those being served.
Philip DeMaertelaere (WCAS90)
Chicago
More on Those 'Gracers
All credit to the 'Gracers ["Amazingrace," fall 2011] and subsequent letter writers [Mailbox, winter 2011] who were riding what was by 1971–72 an almost middle-of-the-road sports car in comparison with the jerry-built bicycle that propelled the budding counterculture at Northwestern a few years earlier, a time when listening to the Grateful Dead, Jefferson Airplane or Country Joe and the Fish was decidedly underground, if not antisocial and downright dangerous on a campus that was still enthralled with the Beach Boys and the Brothers Four.
It was the freshmen and sophomores of the class of '69 and '70 who bucked Northwestern's archconservative establishment, smashing parietal hours — under the banner of James Keach (C70), whom we elected student body president in the spring of 1967, thanks largely to general campus indifference to all things political.
I remember, as if it were yesterday, discovering the Beatles' Sgt. Pepper's Lonely Hearts Club Band in the window of one of the two record shops in downtown Evanston on June 1, 1967. I bought it, hooked up with Steve Lubet (WCAS70) and Steve Sultan (C69) and began at Northwestern what would become a worldwide, summerlong cultural phenomenon that had no need of the Internet. Few on campus knew what we were up to, but what we were doing would eventually blow away the cobwebs at Northwestern and lay the foundation not only for the 'Gracers but for the Dead's appearance at McGaw Hall in 1973.
Thanks for the photo of Jerry Garcia. It is probably the best one ever taken of him. 
Alan Shuback (J69)
New York
I live in Rome and only get to pick up my Northwestern magazine issues when I visit the United States, which I recently did for my grandmother's 90th birthday.
I was asked to make a speech at the 90th birthday party, but I couldn't bring myself to do it as I tend to get exceedingly emotional and cannot speak through the tears.
If I could go back to the afternoon of Nov. 20, 2011, I would surely have read this beautiful, poignant story aloud to all who had gathered to honor my grandmother Margie (or have had someone read it aloud for me!).
Luckily I found a version of "I See Blue" [Purple Prose, summer 2011] on the Northwestern website and, after also sharing the link for all of my friends on Facebook, have asked my mother to please print out this story for my spunky and inspiring grandmother to read, as my tribute.
Thank you, Calvin T. Gabriel, for sharing.
Laura Weinstein (C87)
Rome
Remembering Bob Banner
I was stunned to read of Bob Banner's passing [Passings, fall 2011]. I was a student of his at Northwestern's School of Speech. This was a time when radio was still the prime oral communications medium. Along with some other classmates, I was able to watch his direction of Garroway at Large, which was not a talk show but mostly music. I still remember Banner's innovative direction of Avon Long singing "Lucky Ol' Sun."
After my Army service, I ended up in CBS's mailroom, but try as I might, I could never get Bob to hire me on his expanding production staff, something I still regret.
I remember that he was so soft-spoken that during rehearsals one really had to stop and listen to his comments and direction. He deserved all the accolades and success throughout his long life.
Werner Haas (C51)
West Hollywood, Calif.