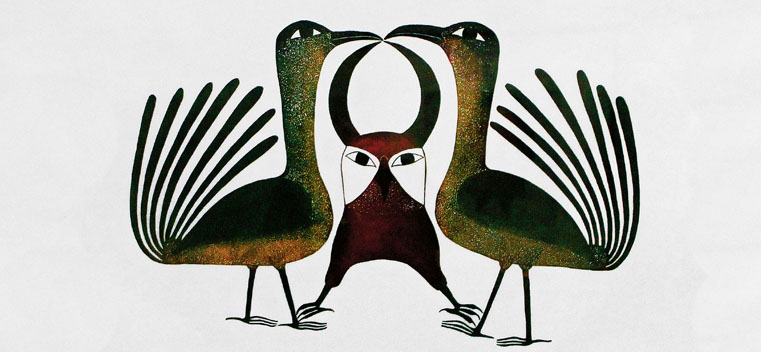 A print by Kenojuak Ashevak, one of Canada's most prominent and acclaimed Inuit artists. Ashevak is the matriarch of the Cape Dorset community, the capital of Inuit art. Cape Dorset is a community along the southern shore of Baffin Island in Nunavut, Canada. The Inuit are the native peoples of northern North America. Photograph by Deborah Krohn, Krohn Studio/Lithograph by Kenojuak Ashevak.
Collections: Artic Art
Story Tools
Share this story
In the mid-1980s, then–Kellogg School of Management dean Donald P. Jacobs saw his first Inuit sculpture at the World's Fair in British Columbia. While he and his wife passed on buying that piece — a massive white sandstone work depicting a woman with braided hair — they could not shake their newfound fascination with the art.
"The more and more we thought about it, the more we liked it, [but] it was too big for the house," Jacobs says. "I came to the conclusion that if we bought it and put it in the Allen Center as a gift to the University, we would see it more often than even if it was in our house."
So they returned to the shop, only to find that the statue had been sold. Undeterred, they purchased a different piece, which they brought back to Evanston and placed inside the James L. Allen Center, home to Kellogg's executive education programs. They became avid collectors of the art and soon began receiving works as gifts from friends and members of the University. They focused mostly on larger sculptures — Jacobs jokes that they're harder for enthusiasts to carry out of the building — and also accumulated rare prints and lithographs.
Today, the collection has grown to nearly 40 sculptures and 60 prints and comprises one-third of the massive art collection that lines the halls of the Allen Center. It is also one of the most substantial collections of Inuit art in the Midwest.
Jacobs' favorite piece is a sculpture called Powerful Falcon, a medium-sized statue he purchased from a Canadian cooperative in the late '80s. But to him, all of the art represents a fascinating, mystical culture. Shamanism and spiritualism are common themes in the collection, as is the relationship between animals and the humans who rely on them for life.
"It's really captured the imagination of a lot of people," Jacobs says. "It gives the Allen Center something visual that's worth remembering."