Specimen: On Thin Ice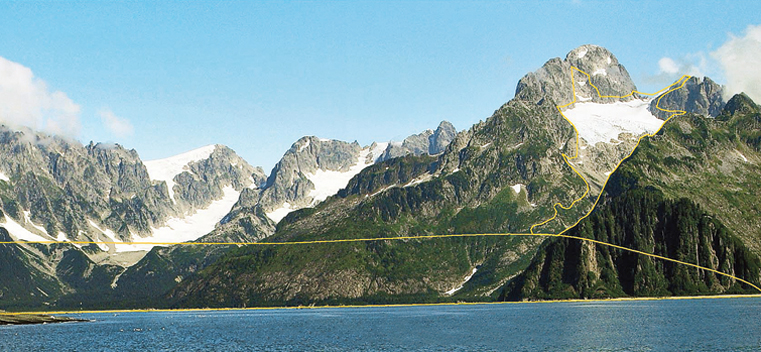 If Northwestern students want further evidence of climate change, they have to look no further than Northwestern's very own glacier.
The late Northwestern professor and geology chair Ulysses S. Grant (no relation to the 18th president of the United States) named the majestic tidewater glacier on the Gulf of Alaska while on a 1909 expedition to what is now the Kenai Fjords National Park, which sits more than 125 miles south of Anchorage on Alaska's southern coast.
Now the Northwestern Glacier is quickly retreating. A century after Grant's visit, the glacier has receded more than six miles toward its origin in the Harding Icefield. Harris Bay and the Northwestern Lagoon are now ice free. According to research from the Geophysical Institute at the University of Alaska–Fairbanks, the glacier lost more than 328 feet in thickness (an average of 2.5 feet per year) from the 1950s to the 1990s.
"The retreat of Northwestern Glacier is part of a widespread global trend," says Yarrow Axford, a visiting assistant professor of Earth and planetary sciences. "The vast majority of the world's mountain glaciers have been shrinking over the past century."
Seth Stein, a Northwestern geology professor, says he teaches students that climate change is not a recent phenomenon — it has gone on throughout Earth's history. In particular, the climate has been warming since the peak of the last Ice Age. However, the natural warming has recently been accelerated by human activities.
He says the Northwestern Glacier and others like it provide evidence of rising global temperatures, a phenomenon that is otherwise difficult to measure.
"You just see it," Stein says. "If you look at glaciers in Alaska and all over the world, they can show you average temperature changing over time."