Gotta Have Heart
Story Tools
Share this story
Christina Rosales is a senior journalism major from Laredo, Texas. She is a Northwestern magazine intern.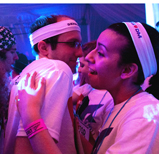 I think I was probably desperate. I remember watching last year's Dance Marathon from my journalism residency in Austin, Texas, longing to be at Northwestern. Sure, Texas weather is unbeatable in the spring, and a quarter of zero homework was the best, but watching DM from the
Austin American-Statesman
newsroom, where I was working a night cops shift, was like being excluded from the world's greatest party. I swore that I was not going to miss the next Dance Marathon.
But as I danced the night and day away this year, I felt like I had oversold this DM business to myself. As the speakers pumped some old N*Sync favorites and house music, my feet were swollen, my back was aching, and I couldn't exactly get low during the Usher songs anymore because my legs were sore. "What was I thinking!?" I said to myself while trying to keep the smile on my face to keep my boyfriend and dancing partner, Andrew Scoggin, from being grumpy. The first six hours were fantastic, but this might be a pretty big regret during the next week, I thought.
But then I heard stories from the Children's Heart Foundation families about how their babies made it or didn't make it, how the little boys became great soccer players or skiers at the age of 6. I listened to the families who mourned the loss of their babies and became advocates for those parents who could still fight to save their children's lives. I cried during one of the stories and wiped away tears with my sweaty, grimy hand.
This was my last shot at Dance Marathon at Northwestern. I remember my editor at Northwestern magazine said, "I thought freshmen were the only ones insane enough to do Dance Marathon." Well, I thought I was pretty insane, too, before I heard these stories about the importance of the money we raised for these wonderful families who danced to Taio Cruz's "Dynamite" onstage.
Right before completing the 30th hour of DM 2011, we were presented with the fundraising grand total: $1,019,130 in gifts and donations. The balloons that fell, the tears that were cried and the togetherness every single sweaty dancer felt at that moment was well worth the aches and pains and the sleepiness on Sunday morning.