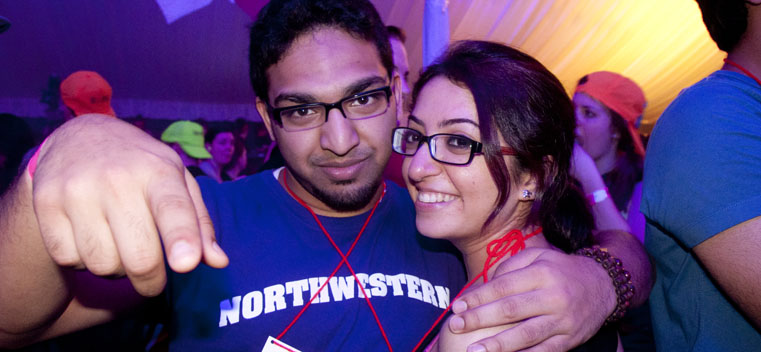 Northwesern University in Qatar juniors Florent D'Souza, left, and Nayaab Shaikh at Dance Marathon 2011. Photo by Emily Chow
NU-Q Does DM
Story Tools
Share this story
Florent D'Souza
is a junior in the communication program at Northwestern University in Qatar. He is studying on the Evanston campus during winter and spring quarters.
Find Us on Social Media
At the 37th annual Dance Marathon, more than 900 students — a new high — danced for 30 hours and netted $1 million in gifts and in-kind donations. We caught up with DM dancer Florent D'Souza, a junior communication major at NU-Q, to find out how he survived.
At Northwestern's orientation, freshmen learn about the University's traditions. This practice is the same at Northwestern's Qatar campus, but at NU-Q — where I'm a junior communication major — students consider the session superfluous. We see many of Northwestern's traditions as awe-inspiring rituals that we'll never experience.
Dance Marathon is one such tradition. Many NU-Q Wildcats dream of doing Dance Marathon, but I am proud to be one of the two dancers who represented NU-Q at Dance Marathon 2011.
My Dance Marathon story began in January. Nayaab Shaikh, a fellow student from NU-Q, asked me to be her partner for DM 2011. Even though the dancer registration deadline had passed, Nayaab talked to the organizers and signed us up. By the second week of February or so Nayaab and I had our "special" registration completed and we were all set to start collecting donations. We had only three weeks to do so. But thanks to all the generous folks back home at NU-Q, we reached our $800 goal in time.  
Nayaab and I now had a huge responsibility on our shoulders. We were not only out there dancing to raise money for the Children's Heart Foundation and the Evanston Community Foundation, but we were also representing Northwestern University in Qatar while doing so.
As we entered the Dance Marathon tent, Nayaab looked straight into my eyes and said, "Florent, we are dancing! For 30 hours! For the kids! For NU-Q!" — and that spirit kept us going.
I'm a dancer — in Evanston I just joined NU BLAST (the Northwestern University Ballroom, Latin and Swing Team), but I don't even know how those 30 hours went by. There was moments of joy, moments of sadness, moments of stress, moments of fatigue. There were highs and lows — it truly was a very strenuous physical and emotional experience. The first 10 hours were so amazing. I was pumped up and excited. The middle 10 hours were painful — physically and emotionally. My body was aching, I was sleep deprived, my vision was blurry, and it felt like I had lost all physical sensation. But when I got to the last 10 hours, there was a sense of accomplishment and pride. I just wanted to dance my heart out until the very end.  
Each time a Children's Heart Foundation spokesperson came up and shared his or her story with us, it made all the exhaustion disappear. And the moment that final collection total [a record $1,019,130] came up on the board, it brought tears to my eyes.
I cannot begin to thank all the folks back home in Qatar who messaged me and wrote on my Twitter and Facebook walls to wish Nayaab and me luck for Dance Marathon. It truly felt like I was not dancing just for me but was dancing for everyone at NU-Q.
And now that it's over, would I do it again? Yes, indeed I would do it again. I am even thinking about putting together an NU-Q troupe for next year's Dance Marathon. I want my peers at NU-Q to experience what I have experienced.