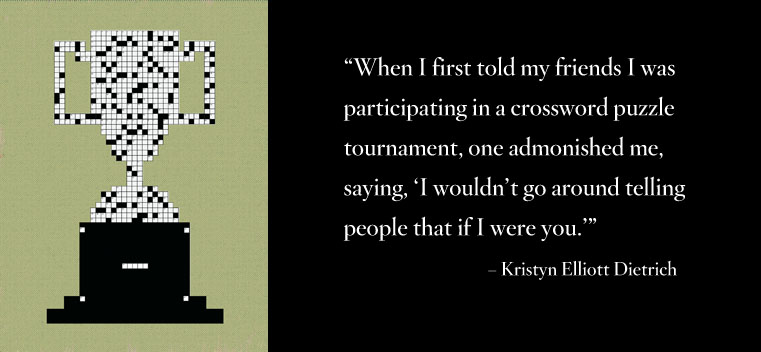 Illustration by Dan Page
Crazy for Crosswords
Story Tools
Share this story
Kristyn Elliott Dietrich (C87), an attorney, practices commercial litigation with the firm Stump, Dietrich and Spears. She lives in Winter Park, Fla., with her husband, Paul, and their four children.
We're always on the lookout for fresh alumni insights. If you'd like to submit an essay, please read our guidelines.
Find Us on Social Media
What's a seven-letter word that means having a feeling of insignificance or inferiority; of having one's pride curtailed or destroyed? "Humbled" is the word that leaps to mind when I think about my experience at the annual American Crossword Puzzle Tournament. For three years I have subjected myself to the challenge of competing with some of the quickest crossword minds in the country. So why do I keep doing it? Because I am absolutely, unequivocally addicted to crossword puzzles.
The American Crossword Puzzle Tournament was the brainchild of Will Shortz, the editor of the New York Timescrossword puzzle. He is the rock star of the crossword world, and for us groupies, speaking with him is like getting an audience with the pope. When Shortz autographed my New York Times T-shirt for me (bought specially for the occasion), I was downright giddy.
When I first told my friends that I was participating in a crossword puzzle tournament, one admonished me, saying, "I wouldn't go around telling people that, if I were you." But I have to say, the reaction from most of my friends has been pretty positive and encouraging, although they always seem a bit surprised.
It all started for me when the documentary Wordplay came out five years ago. I went to see the film, and I was hooked. I called my mother, another avid "puzzler," as we in the cult like to refer to ourselves, and said, "I'm going to Stamford, Conn. You in or you out?" (She was in.) That is how I proudly became one of the "rookies."
The weekend tournament, held every February or March, had been held at the same hotel in Stamford for more than 30 years. After the film came out, there were so many applicants that the event outgrew that location and moved to the Brooklyn Bridge Marriott the following year.
The tournament works like this: the participants complete six puzzles on Saturday. The contestants are allowed 15 minutes to finish the first puzzle. When you have completed the puzzle, you raise your hand, and one of the judges comes over, picks up your puzzle and writes your finishing time on it. Mercifully, they make the first puzzle somewhat easy, so you're lulled into the belief that you actually belong there.
After a 10-minute break you start the next puzzle, for which you are provided 30 minutes to solve, and so on throughout the day. The puzzles vary in difficulty and time limit, but puzzle five is always special. I envision some diabolical puzzle constructor, sitting in a dark room with an evil grin on his face, creating puzzle five. It's virtually impossible to complete unless you're some sort of savant or you bribed someone to give you the answers ahead of time. The clues range from the clever (clue: bolt, in a way; answer: secede) to the obscure (clue: transition between different plant communities; answer: ecotone. Ecotone? Really?).
I have to tell you that it is one thing to be sitting at your kitchen table with a Diet Coke and all the time in the world, leisurely making your way through a puzzle. It is quite another when you are in a gigantic ballroom with roughly 700 other people — all of whom are obviously smarter than you — with a large clock looming over you and adrenaline rushing through your body.
On Sunday there is one last puzzle, for which 45 minutes are allotted, and then as quickly as it began, it's over.
The first year I attended the tournament I had modest ambitions. Being someone who is all too aware of her limitations, I just wanted to know that I belonged, that I was not totally out of my league. The second year all I wanted to do was improve my previous standing. The third time, however, the top half was my goal. If I could only crack that top half, then I would be happy, fulfilled.
This is just for fun, I told myself before checking my score. It doesn't matter how you did; it's just about having a good time.
With that in mind, I eagerly opened the text message from my friend that would reveal my final standing: 392 out of 685. Not top half. Not even close.
So once again, I am gearing up for the annual trek to Brooklyn. This year is going to be different. I've worked on more puzzles. I've timed myself. I have even been keeping a list of clues that have stumped me. And if I don't crack the top half this time, despite what I like to think of as my above-average vocabulary, the only words you'll be hearing from me will be the four-letter kind.