---
by Ryan Haggerty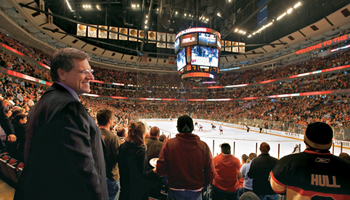 The United Center is dark, the guitar riff of a rock song blaring through the arena's speakers. A spotlight suddenly illuminates the Chicago Blackhawks bench as the first-place team charges onto the ice. A sellout crowd of more than 20,000 people rises to its feet, the crowd's noise nearly drowning out the music.
At long last, the Blackhawks are back.
Just two years earlier the franchise was — in the words of owner Rocky Wirtz — irrelevant.
A mediocre team played in front of sparse crowds, often 7,000 or 8,000 people. The team's attendance was second lowest in the 30-team National Hockey League.
Wirtz's late father, William — called "Dollar Bill" by fans who considered him cheap and blamed him for the team's failures — refused to televise the team's home games, believing that doing so would lessen the value of a season ticket. Chicago-area newscasts often reported the scores of Blackhawks games after covering high school sports.
In 2004 ESPN ranked the Blackhawks 119th out of 120 professional sports franchises in North America.
Rocky Wirtz (C75) took over the team in October 2007, a few days after his father died. He had not been involved with the team's day-to-day operations before his father's death and figured most fans expected it would be business as usual despite the change in leadership.
The fans were wrong. "We had to start over," Wirtz, 57, says earlier this season while watching the Blackhawks play the Columbus Blue Jackets from his seats in the United Center's lower level. "The easy way out would be to do nothing for a year, sit back and [evaluate] what was going on, bring a consultant or two in to tell you what you probably already know. I realized that we didn't have a lot of time to turn this thing around."
The changes Wirtz instituted were stunning in both their scope and their immediacy.
He arranged for 11 home games to be televised during the 2007-08 season, reversing one of his father's most-hated policies, even though Comcast SportsNet's broadcast schedule for the year had already been set. So desperate was Wirtz to get the games on the air that he personally lobbied companies to sign on as sponsors.
Many longtime front-office employees were replaced by new hires.
Wirtz made his most important hire a few weeks after taking control of the organization, when he recruited John McDonough to serve as the team's president and charged him with overseeing the franchise's rebirth. McDonough had been the president of the Chicago Cubs, where he was instrumental in boosting the team's attendance, revenue and national profile. (McDonough teaches in the School of Continuing Studies' master's program in sports administration.)
The results have been dramatic.
All home games are now televised. The team's season ticket-holder base exploded from 3,400 to more than 14,000 in less than a year.
More than 1 million fans attended the Blackhawks' games at the United Center during the 2008-09 regular season and playoffs, setting a new franchise record for single-season attendance. An average of 21,783 people attended the team's 40 regular season home games at the arena, tops in the NHL.
On Jan. 1, 2009, nearly 41,000 fans packed Wrigley Field to watch the Blackhawks play the archrival Detroit Red Wings in a nationally televised outdoor game. It was the most-watched NHL game in almost 34 years.
Of course it doesn't hurt that the Blackhawks have developed into one of the league's best and most exciting teams, led by a core of young superstars. The Blackhawks advanced to the third round of the playoffs in 2009 before falling to Detroit.
The team's on-ice success is reflected in its financial status. The franchise's value increased 26 percent to $258 million for the 2008-09 season, ranking it seventh among NHL teams, according to Forbes magazine.
That's a far cry from the predicament Wirtz faced just after he took over, when he had to borrow money from other family businesses to fund the franchise's payroll.
Wirtz, who was raised in Winnetka, Ill., says one of the keys to the organization's success is not dwelling on the past.
"It doesn't matter why. What matters is what you are going to do about it," he says. "What can you control? Don't worry about what's already happened. That was yesterday's newspaper. That's gone. But you can control what you do tomorrow."
In May 2009 — while the Blackhawks were in the midst of their playoff run — Forbes magazine called the team's comeback "the greatest sports-business turnaround ever."
Wirtz leads the corporation that was founded by his grandfather, Arthur Wirtz (WCAS22), in 1926 and now has interests in liquor distribution, real estate, insurance and banking. (Arthur's wife, Virginia Wadsworth Wirtz [EB24], also attended Northwestern.) Wirtz also runs the national wholesale operations for the Wirtz Beverage Group, including liquor, beer and wine distributorships in five states.
But it's the Blackhawks that have made Wirtz a rock star inside the United Center.
As the Blackhawks and Blue Jackets prepare to take the ice, Wirtz can't walk more than a few feet in the arena's concourse before being mobbed by fans of all ages. They shake his hand, pat him on the back, ask for autographs, pose with him for pictures and thank him for the changes he has made.
Most call him Mr. Wirtz. He tells them to call him Rocky.
They also approach him during the game. He sits in Section 119 instead of in a luxury box. He has no extra security and says he welcomes the chance to talk with fans.
"When the fans believe that you're sincere and you're working your hardest to try to build a winner, that's all they can ask," Wirtz says, his eyes following the action on the ice as he speaks. "They don't have to agree with you. All you want them to do is respect you and the decisions that are made." 
Wirtz says he also respects the decisions his father made while running the team.
"I didn't have to agree with it all, and that's alright," he says. "That's what makes a good organization. When everyone around is a yes man, you don't have a very good organization. I made the changes that I thought were important to make."
John DeLaurentis, 29, a lifelong Blackhawks fan, expresses his gratitude to Wirtz during the second intermission of the game against Columbus.
"I appreciate what you've done for this town," DeLaurentis tells Wirtz. "You brought hockey back to Chicago."
Ryan Haggerty (J07), who played club ice hockey at Northwestern, is a reporter at the Milwaukee Journal Sentinel. He is a former Northwestern magazine intern.
Photo by Stephen J.Carrera
Tell us what you think. If you have any questions or comments, please e-mail the editors at letters@northwestern.edu.