---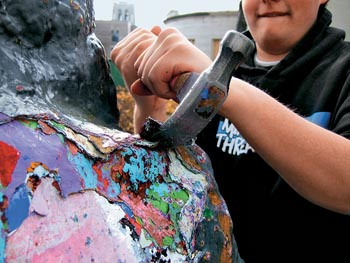 For the first time in perhaps 20 years the original surface of the Rock saw the light of day late last November.
A group of students from an independent study called the Rock Excavation Organization decided to explore the significance of the historic Baraboo quartzite by chipping off hundreds of layers of paint. At least one chunk went to University Archives.
A story on the North by Northwestern web site — accompanied by photos of students with hammers and chisels working on the Rock — prompted responses from students and alumni, some outraged, others applauding the group's originality. Graduate student Mike Winograd created a Facebook group, "Northwestern Students/Alumni against peeling the rock," that garnered more than 900 members.
Steve Burke, the paint shop foreman at Northwestern for 20 years, said Northwestern does not clean the Rock routinely, but it may have been cleaned when the University moved it to its current location in 1989.
Photo by Emily Chow/North by Northwestern